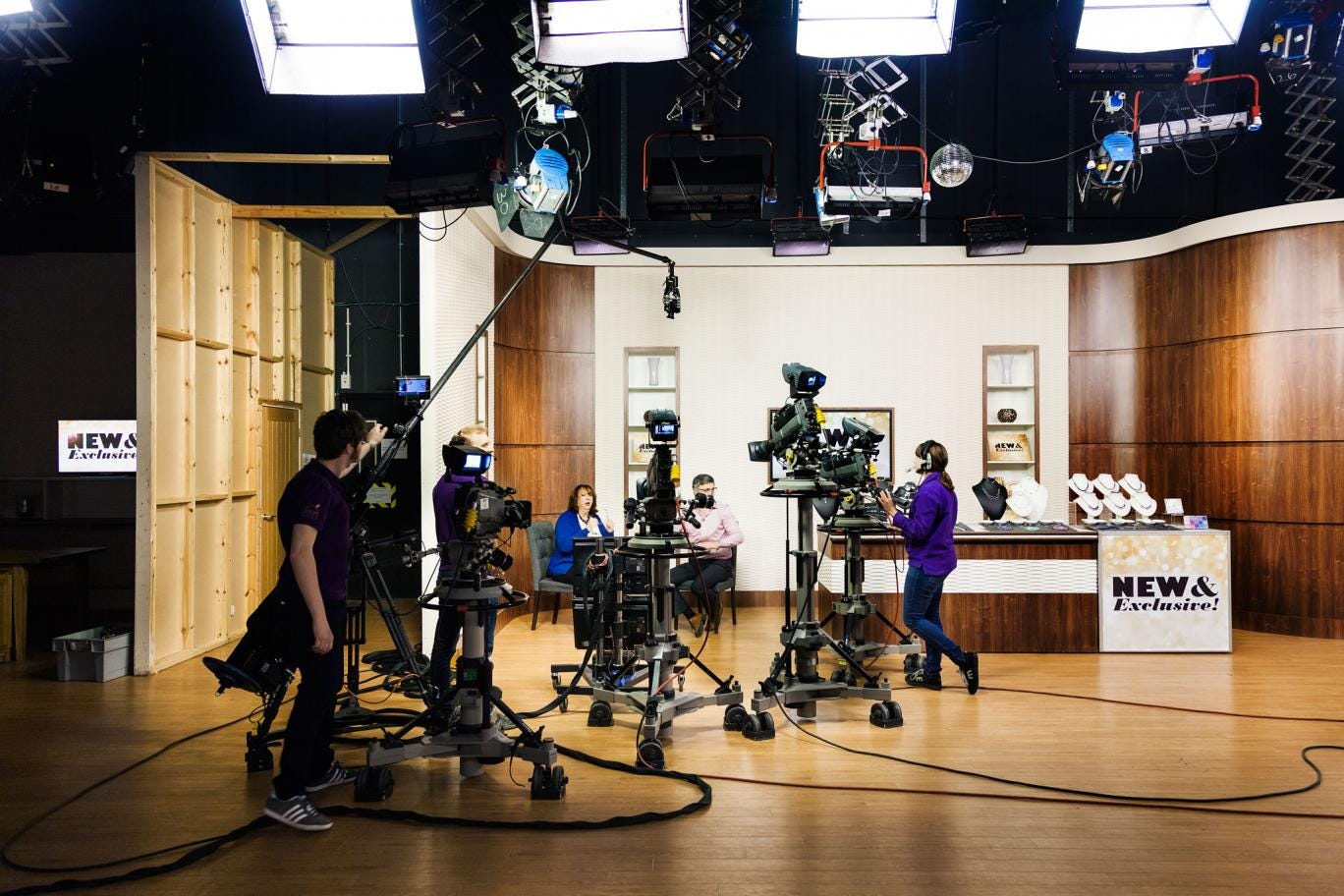 I'd never previously considered whether I needed a Crafters Companion A5 Unmounted Rubber Stamp Set, but that's the kind of decision that shopping channels force you to confront. "A quarter of the stock has sold out," announces Create And Craft presenter Jacqui Joseph. "And you've got to be quick for this Destinations Deluxe Paper Pad, which has 36 delicious sheets, single-sided and foiled, just four pounds and fifty pence."
The beguiling appeal of the TV sales pitch is widely recognised, but Create And Craft, broadcasting 12 hours of live TV every day from its studio in Peterborough, has a very narrow remit. It mainly sells paper. Loads of it. Thousands upon thousands of sheets of paper and card, in every possible hue, and printed with a colossal variety of intricate designs. Yes, from time to time the presenters might extol the virtues of some quilting gear, a candle-making kit or a set of crochet hooks, but 70 per cent of Create And Craft's output is devoted to papercraft. And, more specifically, the making of greetings cards. For hour after hour, presenter and expert guest sit side by side, demonstrating aesthetically pleasing ways of folding things and then sticking them on top of other things. Late at night, after you've been down the pub and are slumped in front of the TV, it's nothing short of mesmerising.
The adjoining warehouse dispatches enough paper, accessories and tools to sustain not only this channel, but a second one, Craft Extra, which is devoted exclusively to demonstrations.
Who knows whether the resulting home-made greetings cards ever get sent or not, but they're being made in their millions. Papercraft might seem niche – but it's one hell of a big niche.
"In July, we're doing an event at Doncaster Racecourse," says presenter Stephanie Weightman, as she prepares to demonstrate to me the multiple features of a Spellbinders Grand Calibur Die-Cutting Machine. "We'll have 15,000 people coming down there, mostly for papercraft," she continues, clamping the machine to the table by flicking a switch. "I was talking to a group of financiers the other day who were asking what this is all about," she says, "whether it started because of the recession – but I said no, it's always been there. It's just becoming more visible, more credible, and in the last few months people who aren't hobbyists are seeing it as a way of making money."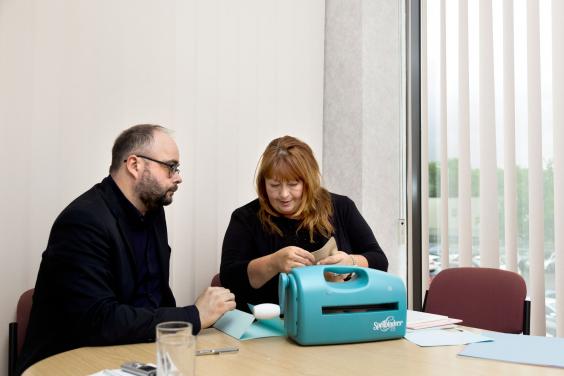 She picks up a die, an ornate piece of metal with a raised edge 1mm high. "There's a guy in America who makes these," she says. "He used to make aeroplane parts. Now he makes a million of these every month." Weightman sandwiches it between two wedges of plastic and piece of card, and pushes it through the machine. Out pops a perfectly cut decorative shape, which she holds up for me to admire. "Papercraft is getting noticed," she says, smiling.
In the US, well-established craft chains such as Michaels and Jo-Ann sell tens of thousands of papercraft lines from huge, Walmart-style warehouses. "Twenty years ago I'd go over there on holiday," says Weightman, "and come back with suitcases full of the stuff. I saw these aisles of colour and texture and I thought I'd died and gone to heaven. But back then there was nothing like that over here."
Since that time, Hobbycraft, an equivalent British craft chain, has grown steadily in popularity, but Weightman believes it was craft shows on Ideal World (Create And Craft's sister channel) and QVC that changed everything. "Americans would come over to put on a 'Craft Day' every couple of months, and the sales were phenomenal," she says. "20,000 worth of product in an hour. That ended up having a huge influence on my own career. My mother told me I'd never make a career out of bits of paper."
Down in the Create And Craft studio, veteran presenter (and former RAF Communications Systems Analyst) Martyn Parker is whizzing through a "new and exclusive round-up" of various items related to greetings cards. Getting to grips with the papercraft lexicon represents a formidable challenge for the novice: there's decoupage; dies; embossing mats; parchment; grid work; shims and patch shims; candi; thermographic powder; and so on. (Candi, apparently, is "a dimensional embellishment" – which seems to translate as "a small thing that you stick on top of another thing".)
Producer Rebecca Edwards senses that it might be going over my head slightly, and reassures me of its mass appeal. "Everyone does craft to some extent," she says, "even if they don't consider themselves a crafter. Making things for birthday parties, making nice things for ourselves or for each other."
The British, of course, have a lengthy and noble history of making "nice things", whether it's knitting, pottery, crochet, embroidery, jewellery… but the papercraft boom appears to have sprung almost accidentally from our national obsession with greetings cards.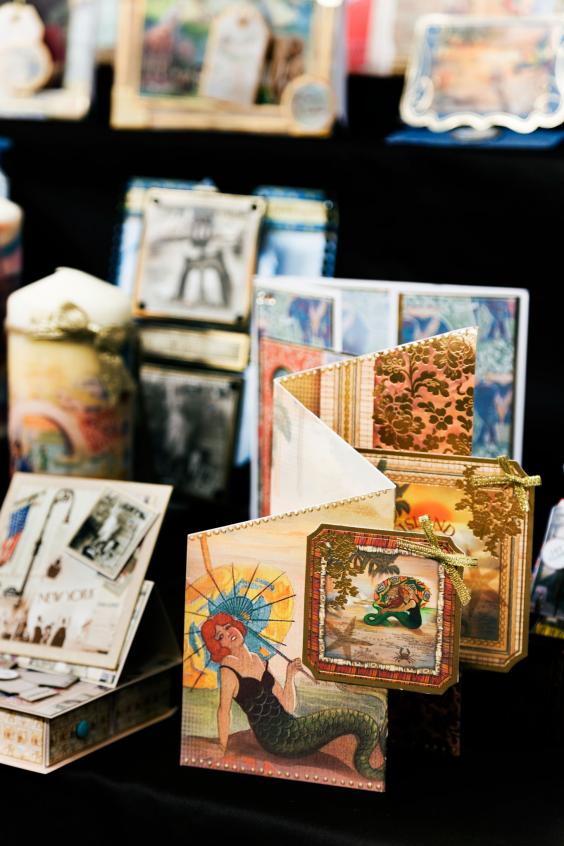 If you assumed that other countries are as keen on greetings cards as we are, you'd be very wrong. Historically, the US hasn't been that interested; for Americans, it seems, papercraft is more about scrapbooking and decoration. Finland is quite into them, but the UK is streets ahead of everyone. We spent £1.29bn in 2013 on greetings cards in the UK (more money than was spent on tea and coffee combined) which works out at 31 cards for every Briton. These figures don't even take into account the burgeoning hand-made sector, which is making a dent in the traditional greetings card business.
"The industry is even moving towards some of the things that we're doing," says Weightman. "Their cards are full of laser cuts because it's the nearest they can get to this hand-made die-cut look."
The success of Create And Craft, then, almost feels like a happy accident – the dovetailing of a national obsession with a deep-seated human need to create. The channel is dedicated to nurturing that need, constantly displaying viewers' work and praising it effusively.
Create and Craft's 12th birthday back in April saw sackfuls of cards delivered to the studio, extraordinary objects with multiple flaps and decorated with stamps, glazes and calligraphy. "This," says Weightman, holding up a particularly elaborate blue creation with pictures of the presenters' heads stuck to it, "probably took about four hours to make." It's faintly hideous, but the love that's gone into it is undeniable.
As children, we create with total freedom, but in later life we become more inhibited as we notice that our work isn't as good as that of our peers. In school art lessons there was usually only one person who was really any good, the teacher would tell us that we weren't artistic, and we'd withdraw into our creative shells. Papercraft, however, attempts to coax us out of that shell by pitching things squarely at the beginner.
If you're not confident of cutting something out accurately, for example, there are thousands of pre-made kits with designs that you can easily pop-out and assemble – a creative helping hand in the tradition of Airfix kits or painting by numbers. And if you don't think you can make something pretty, the channel's presenters assert very firmly that you can: greetings cards, they say, aren't some kind of black art, and the results will be as good as anything you'll see in the shops.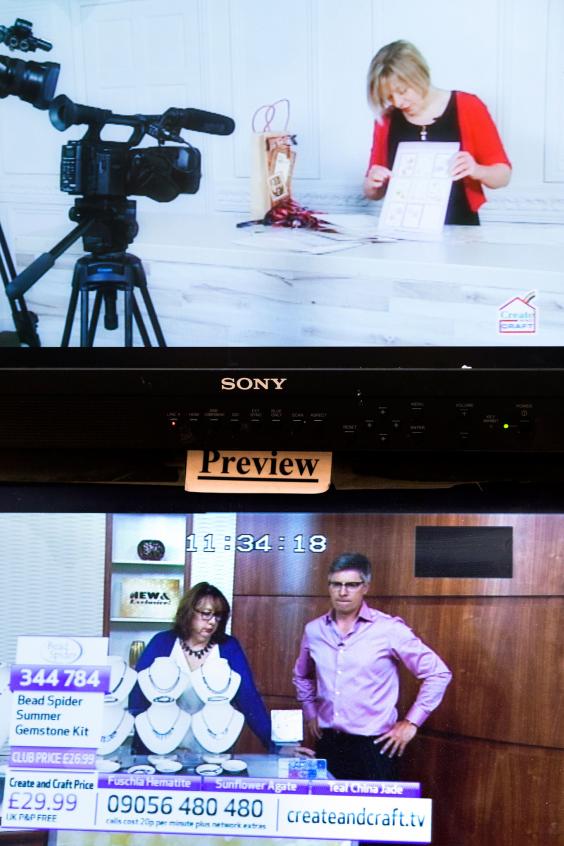 It's an attractive proposition – after all, we love to be involved in creative processes that result in something attractive. "And it's not just a craft that you keep to yourself," says Sienna Parulis-Cook, editor of Cardmaking and Papercraft magazine. "It's something that you send out. People love receiving these things. It's not all about the joy of the maker, it's the joy of the receiver, too."
"It's also the least expensive hobby to get into," adds Weightman. "You can't start flyfishing without all the gear, and sewing machines are expensive things, but you can start papercrafting with a couple of pounds. Also, it's the perception of paper. If I make a mistake, it's just paper. If I make a mistake cutting fabric that costs £30 a metre, that's a disaster. But with paper, it's OK to make mistakes."
Wood turners or silversmiths may scoff at the word "craft" being used to describe a hobby where you can proclaim yourself to be an expert after six months, and papercraft is certainly not immune to criticism from those who demean it as frivolous and unimportant.
"There's a lot of snobbery about, and I've been guilty of some of it," says Evelyn Corcoran, who has made her own greetings cards for years and is a member of crafting groups near her home in Herefordshire. "I don't buy any of that die-cutting stuff or anything from Hobbycraft – I suppose it's the old Catholic guilt of feeling that it's cheating to buy pre-made things.
"But I think it's a good thing that [the sector] is burgeoning. It allows people who might not be particularly artistic to make things that look lovely. It's important to be supportive. My daughter told me about a mother of one of her friends who was disgusted that her daughter gave her a home-made card, that she couldn't be bothered to go out and buy one!"
While papercraft is almost exclusively a female pursuit, and Create And Craft's customers are largely in the 50-plus age bracket, the demographic is shifting. Pinterest, Instagram, Facebook and hundreds of crafting blogs facilitate the exchange of ideas, and magazines such as Mollie Makes are trying to add a sheen of cool to the hobby.
"We've got a kind of Mollie radar for the good stuff," laughs editor Lara Watson. "When you tell people that you've always had a thing for papercraft and scrapbooking they think it sounds really naff, but there are companies in America, such as Studio Calico, that are trying to make it cool and modern."
Watson prefers to use the word "making" rather than crafting, which is intriguing. "Crafting has certain connotations," she explains, "but the idea of what these words mean – craft, art, design – is fascinating. The Create And Craft channel isn't really our aesthetic, but it's brilliant that it encourages people to make, and it's great that people are rediscovering this stuff."
Weightman, for her part, believes that the stigma Watson refers to is being shrugged off. "Etsy [an online store specialising in handmade items] has helped enormously," she says. "We want this stuff to be considered as boutique. What we make is exclusive, desirable. That's where the credibility is coming from."
This message is being received loud and clear by Create And Craft's viewers, many of whom display a devotion that verges on the fanatical. Some of them, having learnt their craft and developed their skills, have set up their own businesses and ended up selling products back to the channel that taught them.
The Create and Craft Club, meanwhile – with its membership badge, club magazine and a promise of 10 per cent off all products – is 90,000 strong.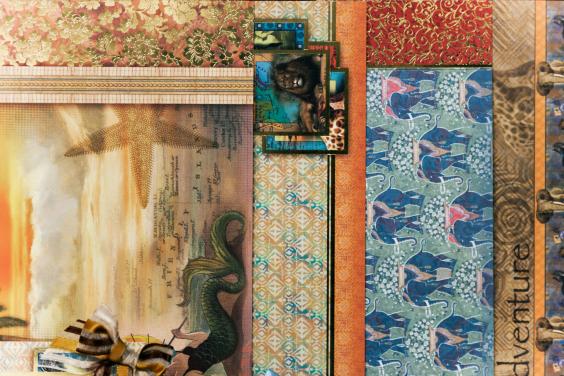 "We did an event at the NEC in Birmingham recently," says Weightman, "and a crowd of hundreds of women besieged Dean Wilson [recently adjudged Favourite Craft Celebrity at the Craft Awards]. They're so passionate about what they do, so dedicated. It's almost like a cult," she laughs.
Tony Sheridan, the managing director of Create And Craft's parent company, quickly downgrades "cult" to "army". "Many moons ago I worked at Manchester United," he says, "and the Create And Craft Club is the closest thing I've ever seen to that tribal mentality of football supporters. This badge," he adds, pointing, "is a precious thing."
Sheridan goes on to talk of ambition, of "shoptertainment", of "omnichannel propositions", but the real measure of the success of papercraft on British television is the fact that we're selling it back to the Americans. When Create And Craft stops its live broadcasts to the UK at 8pm, it swings into action for cable networks in the US, where card making has come from nowhere to become one of the top "participation crafts", as Sheridan puts it.
"And of course, Americans celebrate everything," he continues, with a gleam in his eye. "Thanksgiving, Martin Luther King Day." "The second Friday in May," chips in Weightman, holding up a card with five intricate layers of paper and umpteen baubles hanging off it. "We're selling them the wow factor!"
http://www.independent.co.uk/life-style/fashion/features/craft-is-having-a-moment-but-what-does-it-mean-that-so-many-of-us-are-now-creating-our-own-greetings-10326539.html