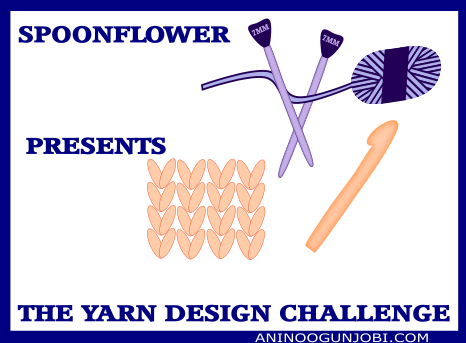 Spoonflower presents a "yarn" design challenge.
Read the competition rules and press release below.
Every good crochet, knitting, weaving, and tapestry project begins with yarn. It is easily one of the best companions for a crafting hobbyist! Create a design inspired by almighty yarn and things made from yarn for this week's challenge. Entries will be previewed at the fat quarter size: 21″ x 18."
Yarn Details
The deadline for entries is Tuesday, January 3, 2017 at 3 PM EDT.
Designs will be previewed at 150 DPI in a fat quarter size (21" x 18") on the voting ballot.
All designs will be eligible for public voting, and the popular vote determines the top 25 winning designs. The grand-prize winner will be the fabric design with the most votes.
Designs previously published on the Internet are not eligible for this contest. Designs do not require printed proofing to enter the contest.
Moderation will take place at the close of the contest deadline.
See our blog page for even more Design Challenge details and a list of previous themes.
Timeline
12/16/2016: Submissions open
01/03/2017: Submissions close
01/05/2017: Public voting opens
01/11/2017: Public voting ends
01/12/2017: Winner and finalists announced
Link: http://www.spoonflower.com/contests/yarn