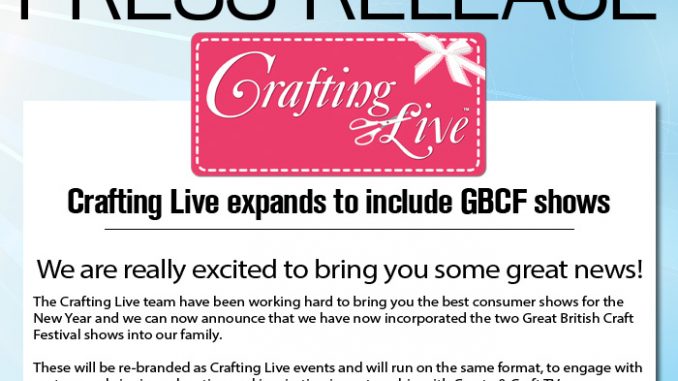 Great British Craft Festival(GBCF) show is now a part of Crafting Live
Read the press release below.
Crafting Live expands to include GBCF shows.
We are really excited to bring you some great news!
The Crafting Live team have been working hard to bring you the best consumer shows for the New Year and we can now announce that we have now incorporated the Two Great British Craft Festival shows into our family.
These will be re-branded as Crafting Live events and will run on the same format to engage with customers, bringing education and inspiration in partnership with Create and Craft TV.
Join some of your favourite Crafty celebrities including Stephanie Weightman and Nancy Watt for thousands of FREE Make and takes at every Crafting Live show.
We will be reaching out to customers and expect to greet around 60,000+( Sixt thousand plus) through the doors to our events during the 2017 show season.
We now have 7 exciting shows planned for 2017 as follows:
Sandown- Saturday 28th & Sunday 29th January
Doncaster- Saturday 25th & Sunday 26th March
Belfast- Thursday 27, th Friday 28th & Sunday 29th April
Bolton- Friday 9th & Saturday 10th June
Doncaster – Saturday 15th  & Sunday 16th July
Stoneleigh- Saturday 30th Sept & Sunday 1st October
Peterborough- Saturday 11th & Sunday 12th November.
We have some very special deals for exhibitors, not only multi -show discounts and a discount for CHA-UK members but also for those who booked the first six shows- the seventh show will be absolutely free of charge.
Contact email: marlene.carr@crafting.co.uk
Phone: 07495 072495