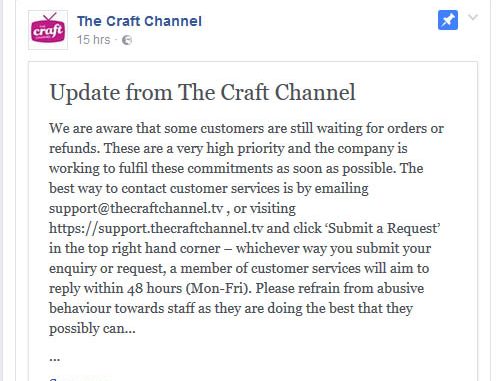 The Craft channel TV posted on their facebook page an update on the current situation that the channel is facing(see the screenshot below).
Read the press release below.
Update from The Craft Channel
We are aware that some customers are still waiting for orders or refunds. These are a very high priority and the company is working to fulfil these commitments as soon as possible.
The best way to contact customer services is by emailing support@thecraftchannel.tv , or visiting
https://support.thecraftchannel.tv/
and click 'Submit a Request' in the top right hand corner – whichever way you submit your enquiry or request, a member of customer services will aim to reply within 48 hours (Mon-Fri).
Please refrain from abusive behaviour towards staff as they are doing the best that they possibly can in what has been a complicated situation for the business.
The Craft Channel apologises for any disruption to your service over the past few weeks, and we understand your frustrations. The company has changed ownership and certain aspects of the company's development are on hold while the board decides on the future direction of the company.
We can not offer any more information at this stage regarding on-air presenters, brands, repeats or live shows. As soon as the internal team know more about the future of the channel, our viewers and customers will be the first to be informed.