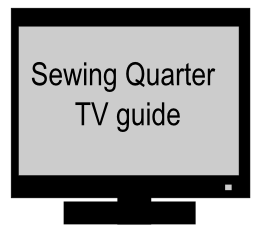 Here is the TV guide of Sewing Quarter TV for Saturday 11th of February, 2017.
08:00 AM – Sew Handy Tool Guide: – Jo Carter joins John Scott to bring us the essential guide to quilting tools.
09:00AM: Jungle Cot Quilt: – Quilting day continues, as Angela Atwood shows us how to make a gorgeous cot quilt.
10:00AM: Place Mats and More: Join us to make pretty mats and coasters, as quilting day continues.
11:00AM: Dashwood Diary Cover: Welcome in spring with the warm, vibrant tones of Dashwood Paper Meadow fabric, as Angela Atwood makes a diary cover.

Watch Sewing quarter on,
Freeview 78
Online: https://www.sewingquarter.com/