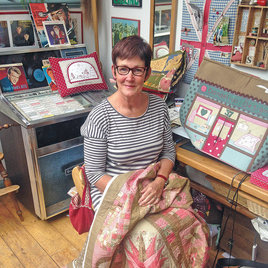 Mandy Shaw joins the sewing quarter TV as a new designer.
Read the press release below.
If you recognise Mandy, it may be because she and her home have featured on Kirstie Allsop's programmes. Before her on-screen career kicked off, she taught patchwork and quilting for over 15 years.
It all started when, at the age of five, she made a 'sort of' dress from an old sheet. Her style is a little different nowadays: her work can be both traditional and a little whimsical. She rarely makes a repeat block, always adding a twist. She brings many years of experience and we're delighted to have her as part of the Sewing Quarter family.
Watch the Sewing Quarter on
Freeview 78
Online: https://www.sewingquarter.com