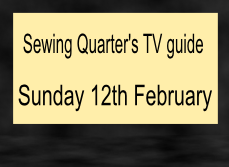 Here is the Sewing Quarter's TV guide for Sunday 12th of February 2017.
08:00AM : Reversible Bucket Bag: – Showcasing one of our favourite projects from The Bag Making Bible, using Joel Dewberry's vibrant Atrium fabric.
09:00 AM: Totes Pandalicious! :- Sammy Claridge makes a gorgeous spring tote, with the delicate floral prints of the Pandalicious range.
10:00 AM: Owl-Print Bag :- We're having a hoot making an owl-print bag with our multi-bag instruction kit.
11:00 AM: Tim Holtz Hour :- Sammy Claridge brings you gifting inspiration with Tim Holtz eclectic pre-cuts. She creates vintage-inspired cases for modern gadgets.
Watch Sewing quarter on,