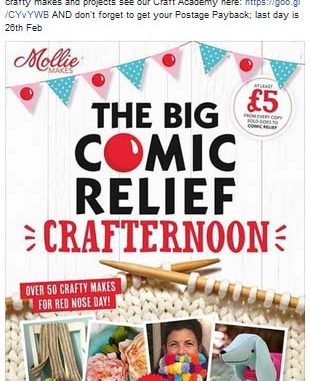 According to a post by Create and Craft TV on their facebook page, they (Create and Craft TV) are sponsoring the big comic relief Crafternoon magazine.
See the screenshot and caption of the post below.
We're sponsoring The Big Comic Relief Crafternoon! The magazine is full of projects and easy makes. It's available from tomorrow in Sainsbury's stores. £5 of each copy goes to #Rednoseday.
For more crafty makes and projects see our Craft Academy here: https://goo.gl/CYvYWB AND don't forget to get your Postage Payback; last day is 26th Feb.