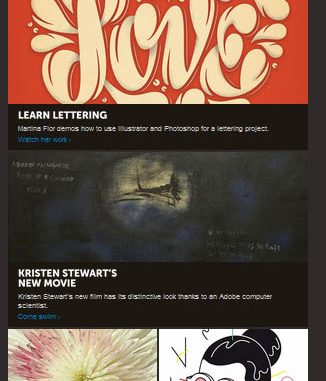 Adobe create magazine is out and it is loaded with digital inspirations.
See the press release below.
New tutorials and inspiration from Create(Adobe Create magazine).
Learn lettering: Martina Flor demos how to use Illustrator and Photoshop for a lettering project.
Kristen Stewart new movie: Kristen Stewart's new film has its distinctive look thanks to an Adobe computer scientist.
Flower power photographer Bettina Güber: Güber reveals the natural world to us in new ways.
5 and 3/4 questions Ruben Gérard: He has pop-culture inspirations and a strong graphic aesthetic.
Free Mini- zine lets you explore, create and capture : Download a mini-zine from Christine Herrin and start documenting your travels.
To view the magazine, please visit : http://create.adobe.com/