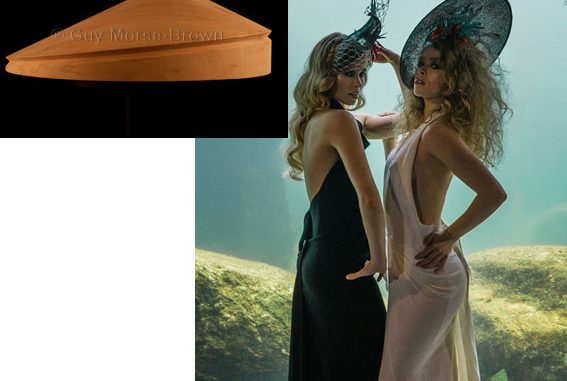 Saucer Style Block – FB48 is the hatblock on offer in the month of February on How2hats.
Read the press release below.
Saucer Style Block – FB48
Every month we offer a discount on one of our popular designs and this month it is the striking saucer block FB48.
This is a fantastic block to use as a base for many possibilities. It is quite a large size (450mm) and is almost coolie in style, with an offset rounded point. It comes with a string groove, which makes blocking it very easy. Afterwards it could be left full size or cut, or manipulated to any variety of shapes.
Ani Stafford-Townsend from the Milliners Guild in Bristol has used this block as part of her Daughters of Neptune Collection and we are very grateful to her for allowing us to share the pictures with you here. The image below is by John Barwood and the FB48 blocked shape features on the right hand side.
For the month of February you can enjoy 15% off the regular price of this block. That's just £149.60 if you live in the European Union (inc VAT) or just £124.67 if you live elsewhere in the world!
To take us up on this great offer call Owen today on +44 (0)1380 859756 or send an email to catherine@hatblocks.co.uk and we can get yours on the workbench for you.