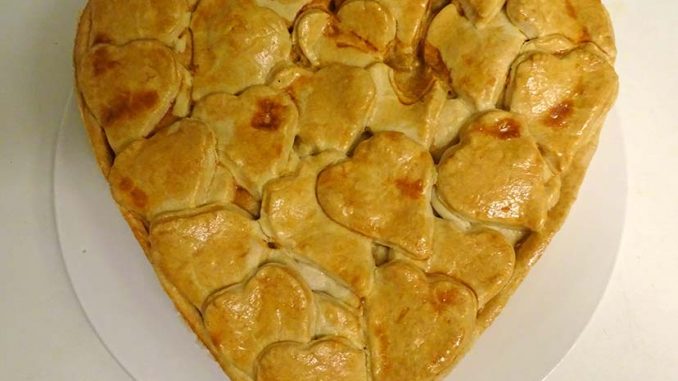 An admirable and delicious chicken pie to make for valentine's day. Heart shape cookie cutter has been used to make the dough heart shape upper crust of the pie.
Enjoy a pie topper with a "full of heart effect" by using a heart shape cookie cutter to cut out dough heart shape.
Ingredients
Plain flour
Butter: salted and unsalted
water
Diced chicken breast
Sunflower oil for frying
Chicken casserole recipe mix
Egg x1 for glazing
Equipment
Oven: middle layer 150 degree Celsius
Heart shape baking pan
Heart shape cookie cutter
Pastry brush
Electric mixer with dough hook
Rolling pin
Knife
STEP 1: Heat the oven. Fry the diced chicken breast in hot sunflower oil until a little brown. Mix flour and butter together until the mixture looks like breadcrumbs. Add water and mix to a soft dough(not too soft).
STEP 2: Roll out the dough on a lightly floured work surface. Grease the heart shape baking pan with butter. Roll the dough around the rolling pin( this makes it easier to cover the baking pan). Place the dough on the rolling pin, over the heart shape baking pan.
STEP 3: Do not stretch the dough to arrange it, instead lift the edge of the dough and let the dough drop into the pan (as shown in the picture below). You will notice that the dough takes the shape of the pan without being stretched. It creates a neat base.
STEP 4: Mix the chicken casserole recipe mix with water, Put the fried diced chicken and then pour the casserole mixture on the chicken.
STEP 5: Roll the dough. Cut out heart shapes using the heart shape cookie cutter. Cover the chicken filling(for the pie) with the cut-out heart shape dough.
STEP 6: Trim the side dough using a knife. Beat one egg and then apply it to the pie using the pastry brush( this is called glazing and it gives the pie that golden colour when baked).
STEP 7: Bake pie for 45-50 minutes in the oven. Remove pie from the baking pan when it is ready.