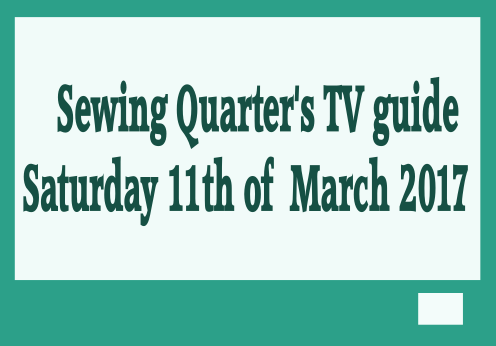 Here is Sewing Quarter's TV guide for Saturday 11th of March 2017.
8:00AM: Vogue Tunic- Turn heads with this stylish tunic, made using a vogue pattern. With guest designer Janis Hobbs.
9:00AM: Kaffe Fassett Paper Piecing- Sammy Claridge Whips up some English Paper Piecing bowls, with a little help from these stunning Kaffe Fassett fat quarter packs.
10:00AM: Wrap top– Janis Hobbs has this hour of dressmaking all wrapped up with a gorgeous vogue-pattern top.
11:00AM: Elegant Embroidery– Using a combination of machine and hand-embroidery techniques, Sammy Claridge demonstrates some beautiful embroidery projects. Featuring fabulous Amy Butler fabrics.
Watch Sewing Quarter on,
Freeview – channel 78
Online: https://www.sewingquarter.com