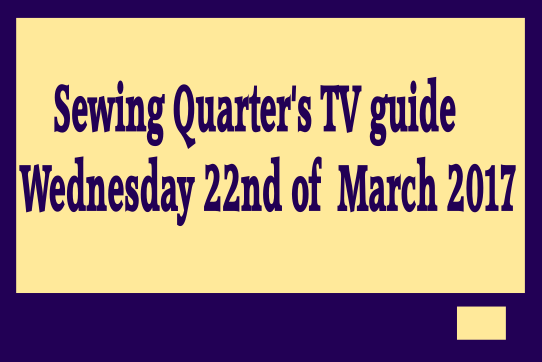 Here is Sewing Quarter's TV guide for Wednesday 22nd of March, 2017.
08:00AM: Simple Spring Kimono:- Amy Butler's Art Nouveau-inspired fabric adds a romantic feel to this spring kimono, brought to you by dressmaking dab-hand Jenniffer Taylor.
09:00AM: Sew Organised:- Jo Carter has some simple solutions for organising your studio space, and a kit to help you make them.
10:00AM:Reversible Jacket:-  Jenniffer Taylor is here to help you spring into the new season with a stylish reversible jacket. Featuring irresistibly gorgeous fabrics by Joel Dewberry.
11:00AM: Bonny Bunny Softies :- By viewer demand, Jo Carter returns with her immensely popular bunny kits. Available in a range of colours, these big-eared softies are back to steal your hearts.
Watch Sewing Quarter  on,
Freeview 78
Online: sewingquarter.com