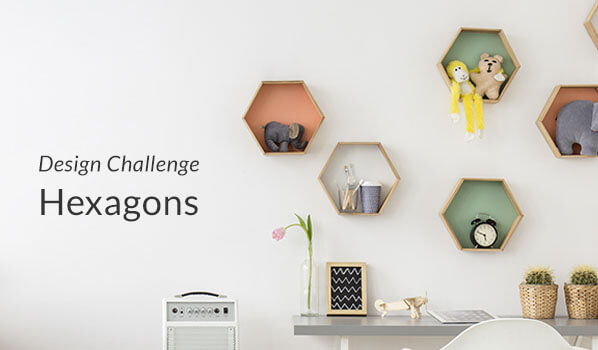 The Spoonflower design challenge is hexagon and it is closing on Tuesday, March 21st, 2017 at 3 PM EDT.
Read the press release below.
From honeycombs to water crystals and basalt columns, examples of hexagons are all around us in nature. Create an original design inspired by this beautifully symmetrical 6 sided polygon; design must repeat. Entries will be previewed at the fat quarter size: 21″ x 18." Submissions close 3/21/2017 at 3 p.m. EDT.
Hexagons Details
The deadline for entries is Tuesday, March 21, 2017 at 3 PM EDT.
Designs will be previewed at 150 DPI in a fat quarter size (21" x 18") on the voting ballot.
All designs will be eligible for public voting, and the popular vote determines the top 25 winning designs. The grand-prize winner will be the fabric design with the most votes.
Public or private designs previously uploaded on Spoonflower.com are not eligible for this contest. Designs do not require printed proofing to enter the contest.
Moderation will take place at the close of the contest deadline.
See our blog page for even more Design Challenge details and a list of previous themes.
Timeline
02/03/2017: Submissions open
03/21/2017: Submissions close at 3pm EDT
03/23/2017: Public voting opens
03/28/2017: Public voting ends at 3pm EDT to determine top 25 entries
03/30/2017: Spoonflower will announce the winner
Prizes
One popularly voted grand-prize winner will receive $200 in Spoonflower credit.
The 2nd place winner will receive $100 in Spoondollars.
The 3rd place winner will receive $50 in Spoondollars.
The rest of the top 10 winners will receive $20 in Spoonflower credit.
The top 25 popularly voted designs (provided the designers are already verified sellers) will be automatically made available for sale in the Marketplace where they will receive 10% commission on every sale — no $5.00 swatch required!
In addition to cash prizes, the top 10 will receive additional exposure in our email newsletters, professional photography of their printed designs, and social media mentions.
Link: https://www.spoonflower.com/contests/hexagons