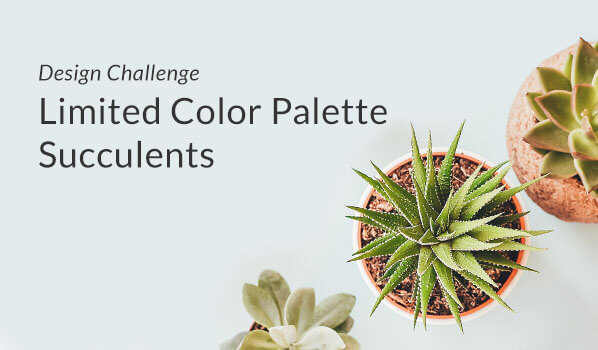 Spoonflower presents a limited colour design challenge with succulents plant.
Read the press release below.
Evocative of a desert sunset; deep, cool greens and earthy corals take the lead in in this limited palette challenge. Black and white are optional, and you must use at least 2 of the following colors: Dark Green (#0A3528), Sage (#74A588), Blush (#FFE1CE), Terracotta (#D69672) or Rhubarb (#D6655A). Transparent variations will not be accepted. Submissions close 04/11/17 at 3 p.m. EDT.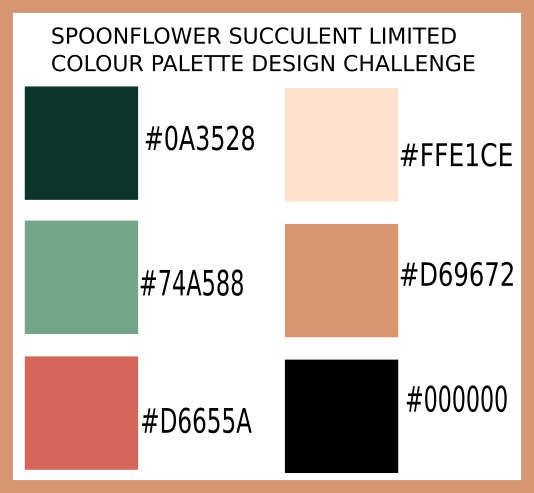 Limited Color Palette Succulents Details
The deadline for entries is Tuesday, April 11, 2017 at 3 PM EDT.
Designs will be previewed at 150 DPI in a fat quarter size (21" x 18") on the voting ballot.
All designs will be eligible for public voting, and the popular vote determines the top 25 winning designs. The grand-prize winner will be the fabric design with the most votes.
Public designs previously uploaded on Spoonflower.com are not eligible for this contest. Designs do not require printed proofing to enter the contest.
Moderation will take place at the close of the contest deadline.
See our blog page for even more Design Challenge details and a list of previous themes.
Timeline
03/17/2017: Submissions open
04/11/2017: Submissions close at 3pm EDT
04/13/2017: Public voting opens
04/18/2017: Public voting ends at 3pm EDT to determine top 25 entries
04/20/2017: Spoonflower will announce the winner
Link: https://www.spoonflower.com/contests/limited-color-palette-succulents