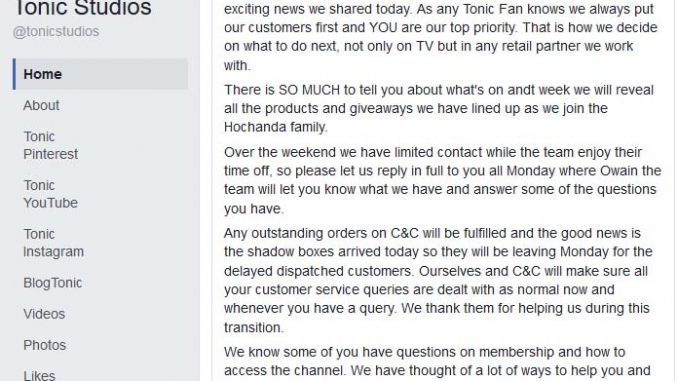 Tonic Studios assure customers that they will fulfil any outstanding orders  that customers placed with Create and Craft TV before their move to Hochanda TV.
Read the press release below.
Thank you so much for all the messages and comments about the exciting news we shared today. As any Tonic Fan knows we always put our customers first and YOU are our top priority. That is how we decide on what to do next, not only on TV but in any retail partner we work with.
There is SO MUCH to tell you about what's on andt week we will reveal all the products and giveaways we have lined up as we join the Hochanda family.
Over the weekend we have limited contact while the team enjoy their time off, so please let us reply in full to you all Monday where Owain the team will let you know what we have and answer some of the questions you have.
Any outstanding orders on C&C will be fulfilled and the good news is the shadow boxes arrived today so they will be leaving Monday for the delayed dispatched customers. Ourselves and C&C will make sure all your customer service queries are dealt with as normal now and whenever you have a query. We thank them for helping us during this transition.
We know some of you have questions on membership and how to access the channel. We have thought of a lot of ways to help you and have worked with Hochancda on the launch which will be revealed next week.
We thank everyone for their support and hope we will show you what value we can bring to Hochanda and how; in our own unique Tonic way, we can make sure we keep you updated with the products and demonstrations that we know you will love.
Jodie, Paula and the full team can not wait to show you what we have lined up and please make sure you 'like' our Facebook page where we will be letting you know exactly what we have planned!
From all here at Tonic thank you for the love and have a crafty weekend