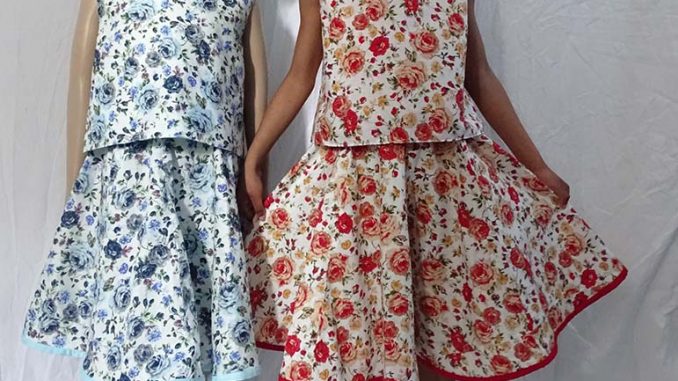 Lovely top and skirt for a girl that I made using the Simplicity 2356 sewing pattern for the skirt and the Butterick See&sew  B4161 sewing pattern for the top.
This top and skirt will brighten a girl's  Spring, Summer and Fall/Autumn wardrobe. Wear the top with a cardigan if desired.
This is the project that I was working on here(http://craftersengagement.com/2017/01/currently-working-on-machine-knitted-cardigans-using-robin-yarns-by-thomas-b-ramsden-and-fabric-skirts-using-simplicity-2356-sewing-pattern/ )
I cut out the sewing patterns needed and then place them on the fabric as instructed on the pattern. I used pins to attach the patterns to the fabric so that they don't move.
I use scissors and rotary cutter in cutting out the fabric. Rotary cutters for the curves and scissors for straight cuts.
I sew a bias binding to the hem of the skirt using the technique of binding a quilt.
I cut out the lining using the same sewing pattern used for the body of the top. Sew lining to the top.
Having lots of buttons, I decided that the closure for the top will be buttons. Buttons were measured on the buttonhole sewing feet to know the length of the buttonhole to sew. Sew the buttonhole using a sewing machine buttonhole sewing feet.
Sew the buttons using the sewing machine button feet.