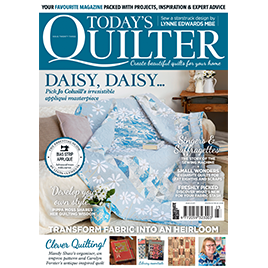 Enjoy a day of quilting from Today's quilter magazine on  Sewing Quarter TV.
Read the press release below.
Calling All Quilters…
If quilting's your thing, don't miss Sunday's shows, when our friends at Today's Quilter take over the studio for the morning.
Our quilting shows are always a big hit with you, our viewers. So with that in mind, we've dedicated a whole day of shows to the subject this Sunday, with a little help from the experts at Today's Quilter.
From a fabulous quilt-as-you-go project with Joy Edgington to a Bordered Garden demonstration from Carolyn Forster, we'll cover a range of tools and techniques.
What's more, we've got a great subscription offer for you. Get three issues of Today's Quilter for just £3 when you subscribe. Click below to find out more.
Watch Sewing Quarter TV on,
Freeview 78
Online: https://www.sewingquarter.com/
Link: https://www.sewingquarter.com/promotional-page/subscriptions/