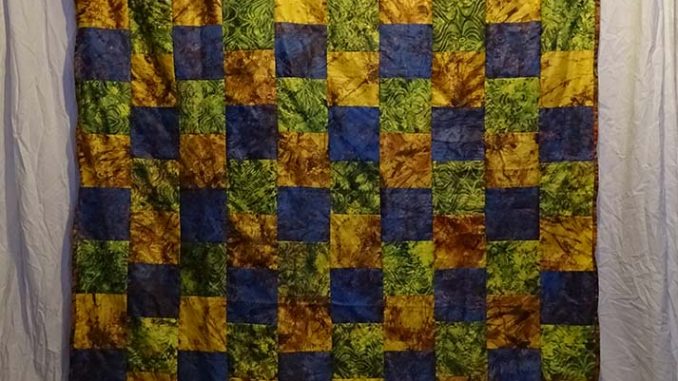 Charming and easy drop square quilt using the Accuquilt Go! 12 inches Qube
Materials needed.
Accuquilt Go! Strip cutter-  2 1/2-inch or 2.5-inch strip cutter ( This makes 2-inch strip when finished)
Accuquilt Go! Big fabric die cutting machine
Accuquilt Go! 12 inches Qube (I used the 6 1/2-inch or 6.5-inch square. This makes a 6inch square when finished)
Fabric 3 yards(! yard of each colour)
3yards wadding
Bias binding and backing fabric x 4yards
Sewing machine
Fabric colour coordinating threads
Rotary cutter
Bed size: to fit a double bed
Quilting ruler
Cut out the squares and stitch to form panels and then sew each panel together. Sew the wadding and the lining to the top of the quilt.
Cut the strips. Sew to form long strip for bias binding.
Bind the quilt using the bias binding strip.