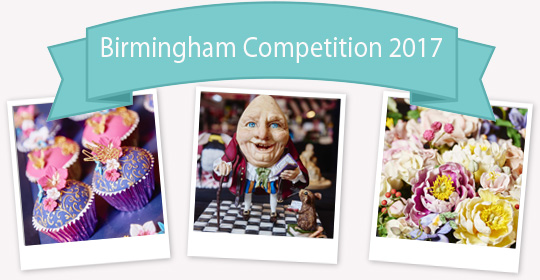 Birmingham cake International Competition 2017 is now open for entry. The entry deadline is Friday 13 October 2017.
Read the press release below.
The Cake International competitions are about so much more than awards and prizes, they are the opportunity for the cake-decorating community to come together and see incredible work being created by competitors from all around the globe! These competitions are open to anyone, with a huge focus on receiving feedback and encouragement to help grow and develop the already unbelievable standard, creativity and artistry seen in cake decorating and sugarcraft. We are pleased to announce that entry is now open for NEC, Birmingham, 3 – 5 November 2017.
Please make sure you fully read the rules and regulations before making your decisions as some classes have been changed from previous shows. The entry deadline is Friday 13 October.
Please direct all technical or entry questions to melanieu@ichf.co.uk and of course… best of luck for 2017!
Link: https://www.cakeinternational.co.uk/entry/bz17