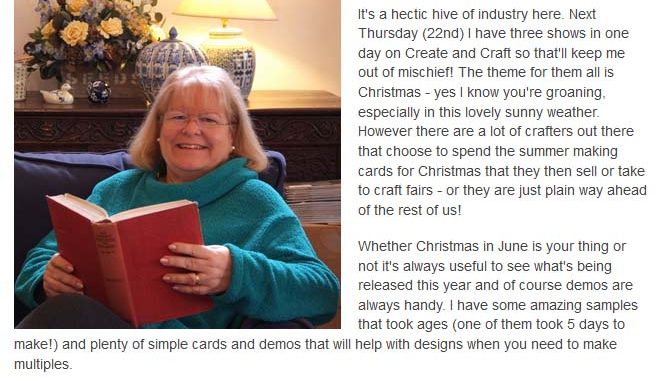 Joanna Sheen speaks on how to be inspired in the "Christmas in June shows" whilst she notifies customers and fans on her upcoming craft demonstration day on Create and Craft TV at 8am, 12 noon and 3pm on the 22nd of June, 2017.
From the screenshot.
Hi Everyone!
It's a hectic hive of industry here. Next Thursday (22nd) I have three shows in one day on Create and Craft so that'll keep me out of mischief! The theme for them all is Christmas – yes I know you're groaning, especially in this lovely sunny weather.
However there are a lot of crafters out there that choose to spend the summer making cards for Christmas that they then sell or take to craft fairs – or they are just plain way ahead of the rest of us!
Whether Christmas in June is your thing or not it's always useful to see what's being released this year and of course demos are always handy. I have some amazing samples that took ages (one of them took 5 days to make!) and plenty of simple cards and demos that will help with designs when you need to make multiples.
So please drop in on one of the programmes – 8am if you are a breakfast craft TV type, or 12noon or 3pm – so hopefully something for everyone!
See you soon
Smiles
Joanna
Watch Create and Craft TV on,