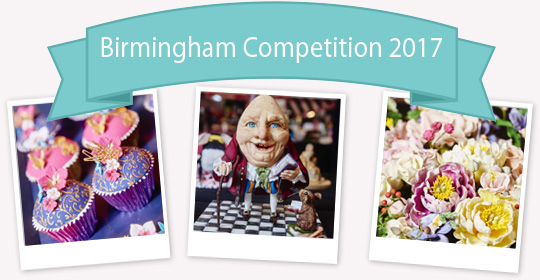 Entry for the Cake International Birmingham 2017 competition closes on the 13th of October 2017 and more prize money has been secured.
Read the press release below.
The team at Cake HQ never stop working to ensure that Cake International is the home of the ultimate global cake competition. We are thrilled to tell you that this year we have secured more in prize money than ever before, so if you're still looking for an excuse to start your entry – and take the first step on a possible life changing or career defining journey – here's even more reasons why you should!
Winner Best in Show Overall – £600 and trophy courtesy of Renshaw and Rainbow Dust Colours
Winner Best in Show International – £600 and trophy courtesy of Renshaw
Winner Masterclass  – £600 and trophy courtesy of Cake Stuff
Cake Collaborations – prizes of up to £150 All classes – prizes of up to £75
These competitions are open to anyone, with a focus on receiving feedback and encouragement to help grow and develop the already unbelievable standard, creativity and artistry seen in cake decorating and sugarcraft. Entry closes 13 October 2017.
Please make sure you fully read the rules and regulations before starting your entry as some classes have changed.
Please direct all technical or entry questions to melanieu@ichf.co.uk and of course… best of luck for 2017!
Enter at Link: https://www.cakeinternational.co.uk/entry/bz17/