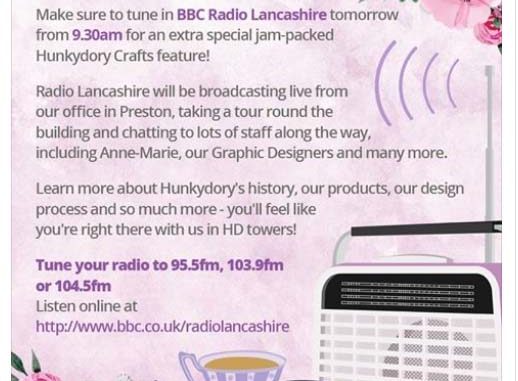 Join Hunkydory Crafts on BBC Radio Lancashire on the 18th of August 2017  from 9:30 am BST (British Summer Time) for some Hunkydory Crafts feature.
Read the press release-  from the poster.
Make sure to tune in BBC Radio Lancashire tomorrow from 9:30 am for an extra special jam-packed Hunkydory Crafts feature!
Radio Lancashire will be broadcasting live from our office in Preston,  taking a tour round the building and chatting to lots of staff along the way including Anne-Marie, our graphic designers and many more.
Learn more about Hunkydory's history, our products, our design process and so much more- you'll feel like you're right there with us in HD towers!
Tune your radio to 95.5fm, 103.9fm or 104.5fm.
Listen online at http://www.bbc.co.uk/radiolancashire