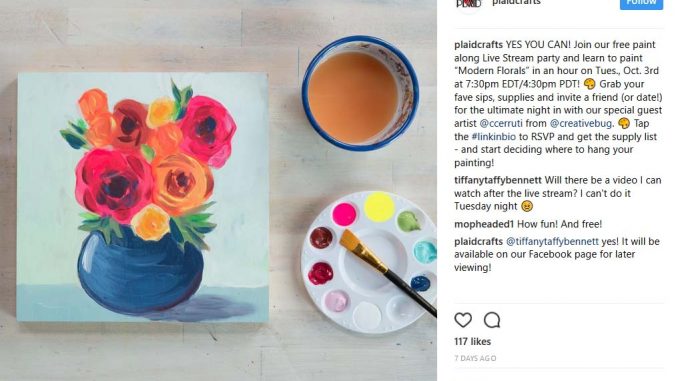 According to a post by Plaidcrafts on their Instagram and Twitter page, there is a free modern floral paint along Livestream at 7:30 pm EDT/ 4:30 pm PDT (for an hour) on Tuesday the 3rd of October 2017.
See the screenshot below.
Paint the Modern Florals with @creativebug's Courtney Cerruti on Oct 3 at 7:30 PM EDT on the Plaid Facebook page! http://bit.ly/2v0kY8R (
YES YOU CAN! Join our free paint along Live Stream party and learn to paint "Modern Florals" in an hour on Tues., Oct. 3rd at 7:30pm EDT/4:30pm PDT! 🎨 Grab your fave sips, supplies and invite a friend (or date!) for the ultimate night in with our special guest artist @ccerruti from @creativebug. 🎨 Tap the #linkinbio to RSVP and get the supply list – and start deciding where to hang your painting!
The video will be available on our (Plaidcrafts) Facebook page for later viewing!
Link: https://www.facebook.com/InspiredByPlaid/