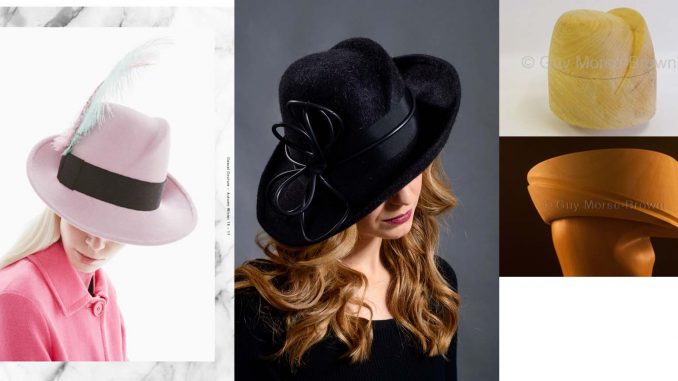 The hat-blocks for the month of November 2017 by How2Hats are the brim block BB106 and crown block CB41.
Read the press release below.
Every month we offer a 15% discount on one of our popular designs and this month it is the brim block BB106 and crown block CB41.
We couldn't resist pairing these two blocks as block of the month when we saw these two amazing creations. BB106 is a dramatic brim with a high upturn at the back and gentle slope down at the front. CB41 is a sculptured crown with a slanted cut away running from the centre front, over the top and down the back. Don't be put off by this as it is very easy to block using a string pulled tightly into the groove and pinned at each end.
We love these two examples by Marie Dahlqvist of Casual Couture in Sweden (above) and Marge Iilane in Estonia (below). We are especially impressed with the way Marge has managed to rotate the brim 90 degrees to allow the upturn to be placed at the side instead of the back!
If you are blocking the hat in two as has been done in both these examples, CB41 is a good block to choose. Having the extra height means you can cut the blocked shape to any height you like before stitching it to the brim. If you already own some of our multiblock brims, you may wish to choose the CB41A which is a lower version that can be screwed onto a multiblock brim to allow blocking in one piece.
For the month of November you can enjoy 15% off the price making the brim block just £188.70 if you live inside the European Union or only £157.25 if you live elsewhere in the world and the crown block £153.00 in the EU or £127.50 outside the EU.
To take us up on this great offer call Owen today on +44 (0)1380 859756, or send an email to catherine@hatblocks.co.uk and we can get yours on the workbench for you. 
Link: https://www.hatblocks.co.uk/block-of-the-month-november-2017