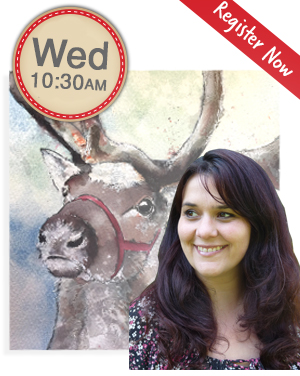 Register now and join Alison C. Board at 10:30am (GMT) on the 29th of November 2017 for a paint along.
Read the press release below.
Register now to paint along with Alison C. Board.
Don't forget you can tune in tomorrow at 10:30am to watch Alison C. Board share her tips and techniques, as she shows you how to recreate "Dancer" the Reindeer using Mixed Media.
Alison's renowned teaching will leave you filled with confidence and new skills that you can transfer to your other mixed media projects.
Our in-house videographer will be on hand to bring you the action and tuition LIVE from the workshop room, as up to 30 students follow Ali's fantastic and informative tuition to recreate this festive painting.
Link: https://www.saa.co.uk/info/alison-board-subscribe-29-11-17/