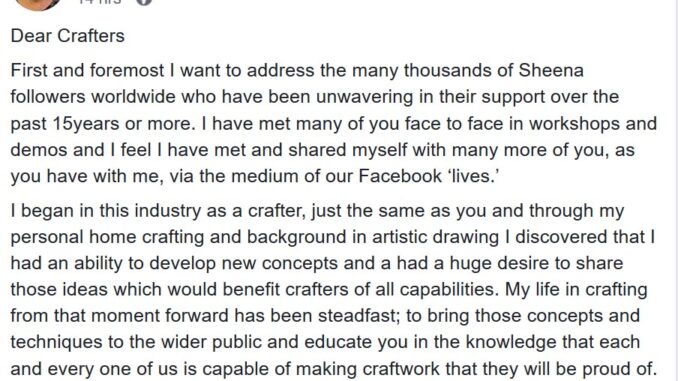 Here is a note from Sheena Douglass as seen on her Facebook page.
From the screenshot.
Dear Crafters
First and foremost I want to address the many thousands of Sheena followers worldwide who have been unwavering in their support over the past 15years or more. I have met many of you face to face in workshops and demos and I feel I have met and shared myself with many more of you, as you have with me, via the medium of our Facebook 'lives.'
I began in this industry as a crafter, just the same as you and through my personal home crafting and background in artistic drawing I discovered that I had an ability to develop new concepts and a had a huge desire to share those ideas which would benefit crafters of all capabilities. My life in crafting from that moment forward has been steadfast; to bring those concepts and techniques to the wider public and educate you in the knowledge that each and every one of us is capable of making craftwork that they will be proud of. In attempting to deliver this to you I have shared and given everything of myself to the point at times of exhaustion.
Why? Because I know that crafting for the vast majority of us is a release; an escape. I have lost count of the times I have received emails or been told that 'if not for crafting, I don't know where I would be.' That has never been lost on me, which is why I continue to work at bringing you free Master classes into your homes and to reach out to those that cannot access me via workshops. What is not publicised is the work I do outside of the public eye with fund raising and helping individuals. I don't want to elaborate on this but at times this spreads Sheena Douglass pretty thin. To me you are my family of whom I care greatly and I apologies wholeheartedly if any of my actions have caused you distress and upset and also to extend this apology outside of our crafting family.
Much has been said recently on Facebook that has been less than kind. During my career I have drawn many thousands of images. The images highlighted here represent a fraction of those thousands drawn. Some of these images are out of copyright and available to us all as inspiration. If I have inadvertently chosen the wrong images as my inspiration I would like to extend my apology to those people concerned. There are occasions when under considerable pressure to deliver on deadlines, short cuts have been taken and insufficient detail has been added by me from the original inspiration. For that I am more than disappointed with myself. I admit that I have made a mistake, I have let myself down, I have let you down and I have let the image owners down for not giving credit to them for the inspiration(s) I have used.
I deeply regret the hurt and disappointment I have caused and I extend my apologies to everyone involved, especially where I have not giving credit where clearly credit was due.
In conclusion, I want to thank Crafters Companion, in particular Sara, Simon and Leann for the last 8 years that we have worked together and for the opportunities that those years have presented for me to share with you. They have always supported me as part of the Crafters Companion family and I wish them well as I step away. My health and private circumstances have led me to make the decision to take a step back from the pressures of deadlines and delivery for the time being. I would like to think that I could still reach you on occasion with craft education.
From the bottom of my heart to everyone of those of you who have followed me and for those of you that I hope will at some time be part of my future, I thank you.
Sheena Douglass