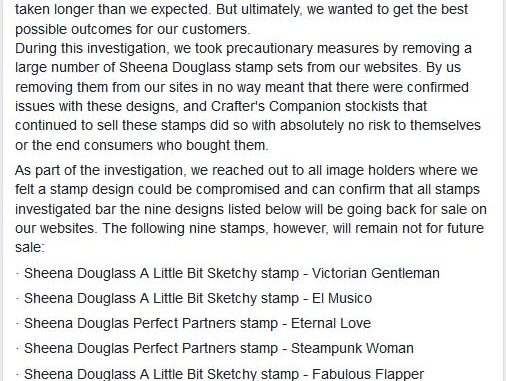 According to a post by Crafter's Companion on their Facebook page, it has finished its investigation on the Sheena Douglass potential copyright infringement stamps and here are the results.
From the screenshot.
Since first discovering about the situation a few weeks ago, our investigation with regards to potential copyright infringement on a number of stamp designs has been extremely thorough and therefore taken lots of time but we can confirm that it is now complete. We apologise that it has taken longer than expected, but the process of finding original images, tracking down image holders, reaching out and getting responses has taken longer than we expected. But ultimately, we wanted to get the best possible outcomes for our customers.
During this investigation, we took precautionary measures by removing a large number of Sheena Douglass stamp sets from our websites. By us removing them from our sites in no way meant that there were confirmed issues with these designs, and Crafter's Companion stockists that continued to sell these stamps did so with absolutely no risk to themselves or the end consumers who bought them.
As part of the investigation, we reached out to all image holders where we felt a stamp design could be compromised and can confirm that all stamps investigated bar the nine designs listed below will be going back for sale on our websites. The following nine stamps, however, will remain not for future sale:
· Sheena Douglass A Little Bit Sketchy stamp – Victorian Gentleman
· Sheena Douglass A Little Bit Sketchy stamp – El Musico
· Sheena Douglas Perfect Partners stamp – Eternal Love
· Sheena Douglas Perfect Partners stamp – Steampunk Woman
· Sheena Douglass A Little Bit Sketchy stamp – Fabulous Flapper
· Sheena Douglass A Little Bit Sketchy stamp – Flora
· Sheena Douglass A Little Bit Sketchy stamp – Until We Meet Again
· Sheena Douglass A Little Bit Sketchy stamp – Highland Dinner
· Sheena Douglass A Little Bit Magical stamp – The Quest
We would like to stress to any concerned individuals that it has been agreed with the image holders we have been in contact with that any stamps previously sold and sold going forward will be usable under the Crafter's Companion Fair Usage policy, regardless of whether they're being removed from sale permanently or not. This means that end consumers can make and sell/gift items made using these stamps as long as the following conditions are met:
· Items are sold or gifted as completely finished, immediately usable or giftable projects (i.e. the purchaser or recipient would immediately be able to sign the card or use it as a gift for someone else – no other assembly would be required)
· Items are crafted by hand (no mechanical reproduction in any form is permitted)
· Items are not sold or gifted in "kit" format that end users would then assemble themselves
Please note: products designed/manufactured by Crafter's Companion (including but not limited to all Sheena Douglass, Sara Davies Signature collections or Crafter's Companion designs which note a specific designer on the package, ie Stacey Barras, Donna Ratcliff, etc) have no selling restrictions, therefore you MAY sell online, in a shop, for charity purposes and so forth.
We would like to thank all our customers for their patience whilst we carried out this investigation as we can appreciate it was a stressful, upsetting and confusing time for all. We are also extremely grateful to the image holders for their understanding and for granting their blessing that none of these stamps sold in any channel carry any sanctions for the end consumer using them.