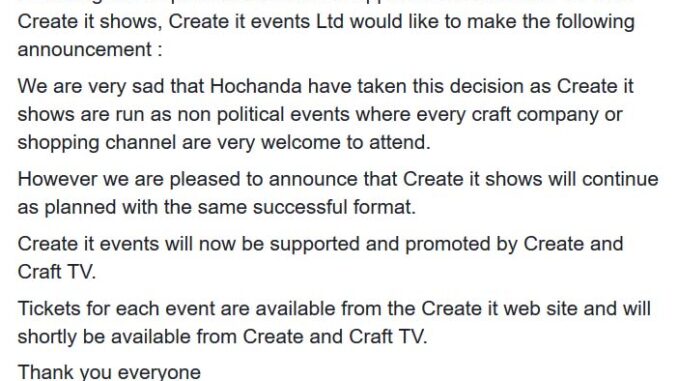 According to a post by Gordon on the Create It Events Ltd Facebook page, Hochanda TV surprisingly withdraws its support of the Create It Shows. However, Create and Craft TV are supporting the Create It Shows(see the screenshot below).
From the screenshot.
Following the surprise withdrawal of support from Hochanda TV from Create it shows, Create it events Ltd would like to make the following announcement :
We are very sad that Hochanda have taken this decision as Create it shows are run as non political events where every craft company or shopping channel are very welcome to attend.
However we are pleased to announce that Create it shows will continue as planned with the same successful format.
Create it events will now be supported and promoted by Create and Craft TV.
Tickets for each event are available from the Create it web site and will shortly be available from Create and Craft TV.
Thank you everyone
Gordon