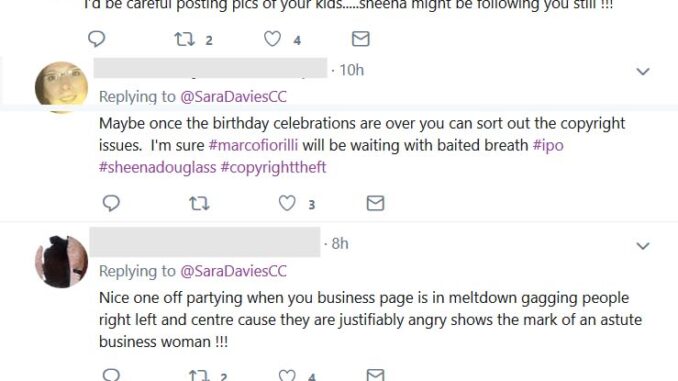 Sara Davies shared her news of her son's fifth birthday on Twitter and the crafting community came to her rescue with words of advice\ wisdom.
From the screenshot.
1st person: I'd be careful posting pics of your kids…..Sheena might be following you still !!!
2nd person: Maybe once the birthday celebrations are over you can sort out the copyright issues. I'm sure #marcofiorilli will be waiting with baited breath #ipo #sheenadouglass #copyrighttheft
3rd person: Nice one off partying when you business page is in meltdown gagging people right left and centre cause they are justifiably angry shows the mark of an astute business woman !!!
4th person: Are you pretending you are the Queen with the 'official birthday' remark? Well, that fits well, that's exactly what Sheena did – PRETENDED she had drawn all the images on her stamps. Instead of celebrating – sort out the copyright problems for Marcofiorilli
5th person: Happy birthday to the little man. Xxx
6th person: Isn't that lovely being able to share your Birthday Party with your Grandad. Xx
Sara Davies: So it was our big boy's official 5th birthday today and we celebrated with a little family party at home – a joint party with granda frank who's birthday was yesterday (I'm not allowed to tell you how old he was…