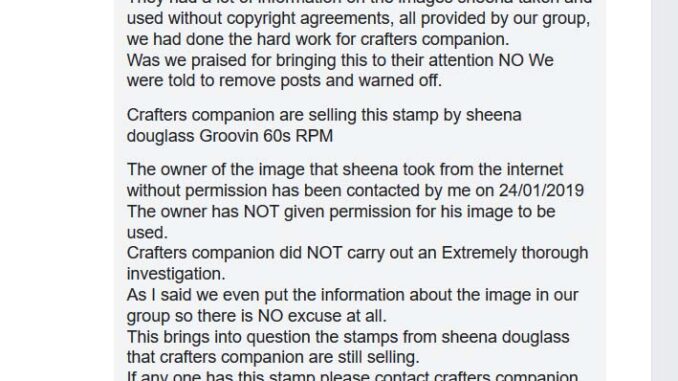 A crafter made a post on Hochanda Tv's page stating that she has seen dies similar to Crafter's Companion create a card on Ali Express and the post prompted replies. A particular reply stating that "dies from Ali Express are ripoff " caught the attention of crafters who noticed that Fiona Clayton from Crafter's Companion liked the reply thereby causing the flashback narration of Sheena Douglass alleged copyright infringement.
See the screenshots below.
Crafter 1: I have to say that dies very similar to the Crafter's Companion create a card have been available on Ali Express for quite a while. For a lot less.
Crafter 2: After the whole situation with Sheena I've changed my attitude to craft purchases. The diabolical way Crafters Companion dealt with it convinced me that i'd never give these companies any more money. So I'll gladly buy from China . Most of what's being sold to us is made there at massively inflated prices. Nothing in the craft industry is original at the moment. All copying and regurgitating work. I think when Crafters Companion failed to deal with the Sheena fiasco properly and decided to delete and block customers asking valid questions then they changed people's perception of the Craft industry.
Crafter 3: PMSL @ Fiona Clayton , really!, Sheena's" Designed by" backed by CC are the biggest copy rip off artists out there as well proven recently..
Crafter 4:  Crafters companion don't worry over things like stolen designs or its UK customers so fill ya baskets on Ali.
Crafter 5: So it is OK for the likes of Sheena Douglass to rip other people's designs but not the other way round. Double standards. If Fiona Clayton thinks that is OK, then she along with Sheena and anyone else who thinks this is OK, obviously have no integrity.
Crafter 6: Hmm interesting Fiona Clayton of CC has liked ………..'s comment to you, considering what Sheena Douglass has done very recently.
Absolutely shocking to like a post like that after Sheena stole from others to Design some of her stamps!
Crafter 7: ……That information was posted on crafters companion Face Book page on Friday 7 December 2018, It is incorrect.
I even posted the image below of the record player in my group Crafters United and crafters companion took screen shots of everything they wanted from our group to use against us.
They had a lot of information on the images sheena taken and used without copyright agreements, all provided by our group, we had done the hard work for crafters companion.
Was we praised for bringing this to their attention NO We were told to remove posts and warned off.
Crafters companion are selling this stamp by sheena douglass Groovin 60s RPM
The owner of the image that sheena took from the internet without permission has been contacted by me on 24/01/2019
The owner has NOT given permission for his image to be used.
Crafters companion did NOT carry out an Extremely thorough investigation.
As I said we even put the information about the image in our group so there is NO excuse at all.
This brings into question the stamps from sheena douglass that crafters companion are still selling.
If any one has this stamp please contact crafter's companion as it should NOT be for sale and it should not be used.