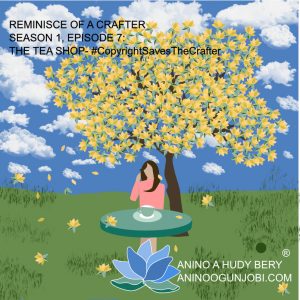 Jordy tells her story.
Today, I wanted to wear a Jordy Blue coloured dress to go with my name but decided to wear an American Pink colour gown with matching shoes and a bag. My hair was in a flick style curled to the front with the ends dropping close to my bust. Applying a natural make-up effect on my face, I set off to the appointment looking like a billionaire in a movie. I called a cab and off I went.
I had to collect my eyeglasses. I needed a photochromic lens because of the sunlight. Anytime the sun-rays hit my car windscreen when I am driving it disturbs my vision or sight.
On my way home, I decided to enjoy the scenery, so I went into a Tea Shop. I placed my order and then came outside of the Tea Shop. I sat under a Yellow-Bird Magnolia Tree outside of the Tea Shop… Don't think too much, I am giving myself a self-love treat.
I had hardly sat down when an attendant brought my order. I ordered a red velvet cake and a soft drink, Coca-Cola to be precise. I opened the soft drink and poured it into the teacup to avoid raised eyebrows and to keep the posh outlook of drinking tea.
The scenery was lovely to enjoy with fair-weather bumpy white clouds which I learned is called Cumulus.
As I ate the Red Velvet Cake, I overheard a loud argument between three crafters as I got to know from their discussion.
It is a witch-hunt, they are destroying businesses by revealing all these, one of the ladies(let's call her Ms Oaks) said and that was what pinched my ears to listen.
They were discussing copyright infringement in the crafting industry!
Ms Oaks' hero is being discussed. She fought tooth and nail to protect her hero despite the revelation that she just had.
Ms Reddington just sat there enjoying her cake and tea while she listened to both crafters' points of view without speaking but nodding to everything that was being said.
As the argument and analysis were taking place, Mrs Oaks's phone rang interrupting the discussion. She didn't want to pick up her phone call but Ms Reddington beacon to her to pick up the call. Perhaps this will create a diversion of the topic.
As soon as Ms Oaks dropped the phone, she became moody.
Simultaneously, her friends turned to her to ask if all was well.
No, she answered, how can it be well when my daughter is crying that her goods are being seized at the retailer that she does supply? The retailer just called now to tell her that her recent goods are infringing on someone's copyright. Do you know that we spent a lot on this recent supply? I am not going to take this lightly.
Calm down, let's see what we can do about it, said Ms Reddington.
You see why copyright infringement is worst, it is the crafter that suffers, Ms Marcia said as she picked a magnolia flower that fell on her table.
Now that it has happened to you, which I sympathize with you for, you are seeking for justice. Just count your loss and move on. Ms Marcia said as she gazed into the magnolia flower as if trying to find something hidden inside it.
You are being insensitive with your statement, Ms Oaks fired at Ms Marcia.
Insensitive! Ok, that's fine. You were the one angry at the people exposing copyright infringement in the crafting industry. You said that your hero can do no wrong and so on. Now that I am showing no empathy you are calling me insensitive. I can see your double standard or should I say hypocrisy? Your daughter's life savings is gone down the drain! Hope that tells you of how insensitive I remind you, Ms Marcia said softly as she admired the Magnolia flower in her hand.
I was so interested in Ms Marcia's intelligent analysis that I ate two 450 gm cakes because I couldn't hold the café's chair without eating for some time, which would deprive other customers of sitting and enjoying their tea.
Mrs Oaks left shortly to meet her daughter so they could expose what copyright infringement had done to them.
Ms Marcia asked Ms Reddington why she was just nodding and not saying a word as they spoke or is she afraid.
Oh! No! I am not afraid. I am one of the silent majority that takes action against copyright infringement irrespective of the person. I was silent because I had to learn from both sides. Ms Reddington said smiling.
Time to go. Thanks for a day well spent, Ms Reddington said as she gave Ms Marcia a hug and took a cab.
I picked some fallen Magnolia leaves and took a good look at them. I put some in my bag so I can dissect, take pictures and convert them into cutting files and crafting designs.
I was not affected by the copyright infringement case because I do not have products from the said company but I do sympathize with those who are affected.