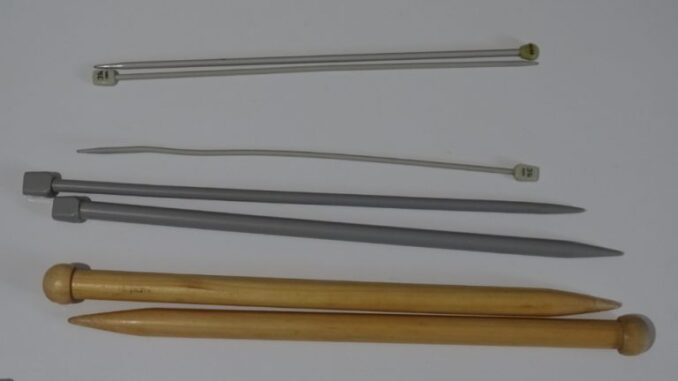 Our featured post from Crafters Dictionary is the Knitting Needle.
This is a hand-knitting tool like a rod that is straight or bent with a pointed tip made from wood, steel and plastic and used in pairs or singly(cable) in producing knitted fabrics or garment(s).
As pointy, as these needles are, they can be used in making/producing different shapes and beautiful knitwear when used with yarn/wool.
Knitting needles come in various styles/types, sizes and lengths.
The size of the knitting needles affects the size of the stitch and swatch gauge( The bigger the needle size the bigger the stitch -the size that will be made).
Knitting needles are made from different materials like Plastic, steel, bamboo and much more.
Styles/type of knitting needles can be,
Double pointed(DPN),
cables (bent or straight)
Circular
Single pointed(Regular)
And the style/type of knitting needles used in knitting different projects or stitch patterns;
For example,
the double pointed needle is used for knitting I-chord, socks and much more.
Cable knitting needles can be used in knitting cable stitches, holding stitches and much more.
Circular knitting needles can be used in knitting large projects which require a lengthy needle, circular projects and much more.
The size of the knitting needle ranges from 2mm to 15mm depending on the manufacturer. Some manufacturers, do produce custom sizes.
*If you have a YouTube video showing a technique, uses or tutorial of this product, please comment with the link to your tutorial and Crafters Dictionary will add the link to the post on its website.
Read more on; https://craftersdictionary.com/