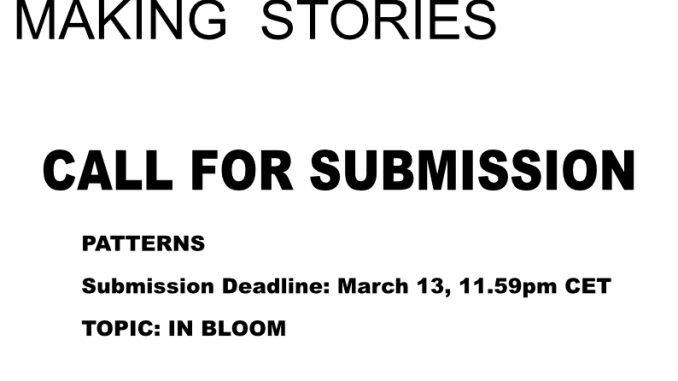 Making Stories has published its criteria for its latest design submission call.
Read the press release
PATTERNS
Submission Deadline: March 13, 11.59pm CET
TOPIC: IN BLOOM
We're looking for written and visual work exploring how we grow from bud to bloom, how knitting and making play into this, and how sustainability and a consciousness how we interact with the earth, its flowers and inhabitants can shape us and help us bloom.
TIMELINE
For Issue 9, we're working with you on the following timeline:
Submission Deadline: March 13, 11.59pm CET
Decision & Feedback: March 14 – 16
Finished Essay / Illustration Due: June 12
Launch: March 2023
COMPENSATION & RIGHTS
We here at Making Stories will take care of proof reading and layout of your final piece of work. You, the author / illustrator, are responsible for submitting your final piece by the deadline.
Compensation for your work is based on complexity and word count and ranges from € 50 to € 200.
We at Making Stories will hold the exclusive rights for your piece of work for 3 months after publication. The essay / illustration itself may be published, distributed and sold both in the print and the digital version of the magazine. After the exclusivity period, we can still continue to sell the print and digital version of the magazine that include your contribution.
SUBMISSIONS
Please submit an abstract (for an essay, short story or poem) or rough sketch(for an illustration).
Please send your submission in PDF format to hannalisa@making-stories.com. If you require any accommodation for a disability, we would be honoured if you shared this with us so we can provide the best collaboration experience possible.
More details on this link: https://making-stories.com/pages/call-for-submissions