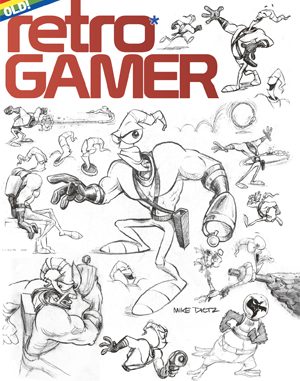 Issue 230 of the Retro Gamer Magazine is out.
Read the press release
Here's what you can expect in our next issue
It's time to get groovy! Our latest issue features The Evolution Of Earthworm Jim, Shiny Entertainment's wacky spacesuit-wearing annelid who blew gamers away in the Nineties. David Perry, Nick Bruty and Tommy Tallarico discuss Jim's original Mega Drive game, his Mega-CD makeover and the sequels that followed.
We've plenty more great features in issues 230 including in-depth behind-the-scenes articles on Alien Resurrection, the Crash Bandicoot and Spyro Fusion series on Game Boy Advance as well as the macabre point-and-click adventure Dark Seed and the Gauntlet clone Storm.
Other highlights include Ultimate Guides to Konami's Mikie and the excellent Pinball Dreams, the evolving Chiptune Music scene and the history of EA's superb SSX series of snowboarding games. We also speak to James Rolfe, better known as the Angry Video Game Nerd, who recently celebrated 200 episodes of the popular show, and highlight the best Sonic games to spend your cash on.
We've a number of excellent miniature features as well which cover the likes of Paperboy, Terra Cresta, Aggelos, Rolling Thunder 2, Sega Touring Car Championship, R-Type Delta, Remute and much, much more.
Thanks for your continued support. We'll see you again next month!
Darran Jones
Editor, Retro Gamer