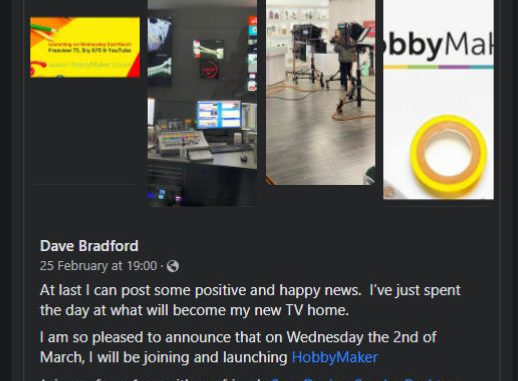 Former Craft Presenter on Create and Craft TV, Dave Bradford has just announced on his Facebook page that he will be presenting on HobbyMaker TV on 2nd March 2022.
From the screenshot
At last I can post some positive and happy news. I've just spent the day at what will become my new TV home.
I am so pleased to announce that on Wednesday the 2nd of March, I will be joining and launching HobbyMakerJoin me from 1pm with my friends Sara Davies, Sandra Rushton, Anne-Marie Catterall and Debbie Fisher.
Search for HobbyMaker on Facebook and join the page for all the latest news about this new and exciting Channel. Freeview 73 and Sky 670 and you tube.
See you on Wednesday and again, a massive thank you to you all for your support over the last few weeks, it's been humbling.
Davey B.