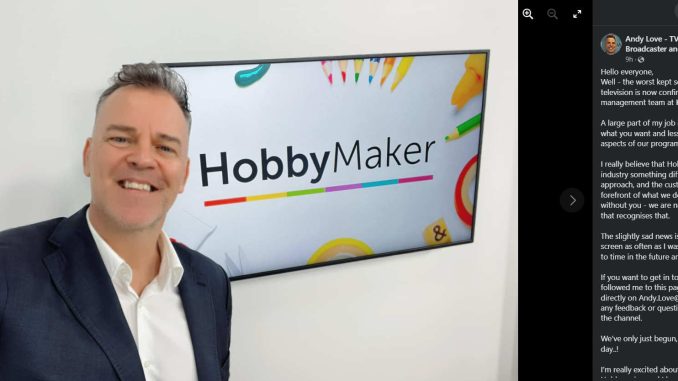 Here is a message from Andy Love.
From the screenshot
Hello everyone,
Well – the worst kept secret in shopping television is now confirmed – I'm now part of the management team at HobbyMaker!
A large part of my job is to bring you more of what you want and less of what you don't – in all aspects of our programmes.
I really believe that Hobbymaker offers the industry something different, is innovative in approach, and the customer experience is at the forefront of what we do. As I have regularly said – without you – we are nothing. I am somewhere that recognises that.
The slightly sad news is that I won't be on your screen as often as I was – but I will be from time to time in the future and I'm only an email away…If you want to get in touch – and as you've followed me to this page – you can email me directly on Andy.Love@hobbymaker.co.uk with any feedback or questions you may have about the channel.
We've only just begun, but we are growing every day..!
I'm really excited about the future of Hobbymaker and I hope you'll continue to be a part of it.
Much Love,
A