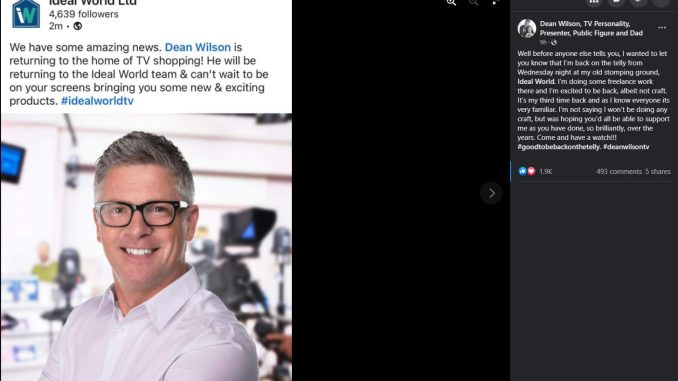 According to a post by Ideal World on its Facebook page, Dean Wilson is coming to its channel.
Dean Wilson has also confirmed this on his Facebook page.
From the screenshot- Ideal World.
BREAKING NEWS! 
 Dean Wilson is returning to the home of TV shopping! 
From the screenshot on Dean Wilson's page
Well before anyone else tells you, I wanted to let you know that I'm back on the telly from Wednesday night at my old stomping ground, Ideal World. I'm doing some freelance work there and I'm excited to be back, albeit not craft.
It's my third time back and as I know everyone its very familiar.
I'm not saying I won't be doing any craft, but was hoping you'd all be able to support me as you have done, so brilliantly, over the years.
Come and have a watch!!!
#goodtobebackonthetelly. #deanwilsontv