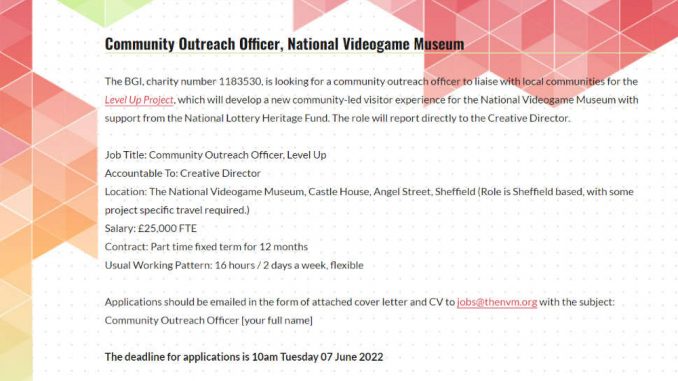 BGI has announced a job vacancy for Community Outreach Officer, National Videogame Museum in its company.
Read the press release
We don't hire often but when we do, we're looking for creative individuals from all backgrounds to join our team, deliver our charity's exciting mission and make a difference to our different communities.
The BGI's mission
The charity's mission is to educate the public about the art, science, history and technology of videogames through running a museum, provision of education and research. Our diverse team of staff, trustees and advisory board works to:
Create unique interactive exhibitions about games culture
Inspire thousands of schoolchildren in engaging workshops
Reveal careers in the UK's fastest growing creative industry
Encourage everyone to play and make games
Community Outreach Officer, National Videogame Museum
The BGI, charity number 1183530, is looking for a community outreach officer to liaise with local communities for the Level Up Project, which will develop a new community-led visitor experience for the National Videogame Museum with support from the National Lottery Heritage Fund. The role will report directly to the Creative Director.
Job Title: Community Outreach Officer, Level Up
Accountable To: Creative Director
Location: The National Videogame Museum, Castle House, Angel Street, Sheffield (Role is Sheffield based, with some project specific travel required.)
Salary: £25,000 FTE
Contract: Part time fixed term for 12 months
Usual Working Pattern: 16 hours / 2 days a week, flexible
Applications should be emailed in the form of attached cover letter and CV to jobs@thenvm.org with the subject: Community Outreach Officer [your full name]
The deadline for applications is 10am Tuesday 07 June 2022
Link: https://thebgi.uk/recruitment/