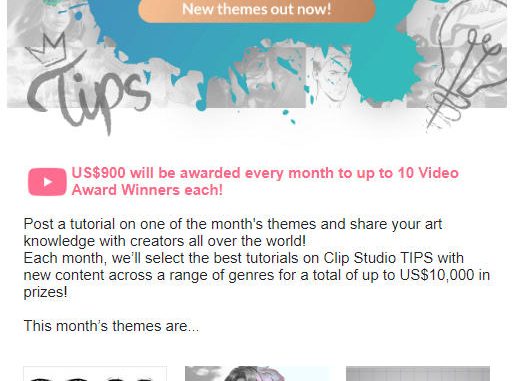 Clip Studio Paint has announced the tutorial themes for May 2022.
Read the press release
Entry period
May 2–31, 10:00 JST/01:00 UTC
Theme 1
Types of eyes#EyeDesign
Not only a design feature, the character's eyes can create personality and expressiveness! Show us how you draw eyes using Clip Studio Paint.
Theme 2
Gradient maps#Gradientmaps
Show us how you use gradient maps, a useful tool for finishing and editing artwork. This can include methods such as using them to create color variations of the same artwork easily, or to unify the colors of a finished artwork.
Theme 3
Creating profile icons#Pficon
What kind of image do you use for your social media profile icons? Show us how to draw recognizable, eye-catching illustrations in small circles and squares using the functions of Clip Studio Paint.
Link: https://www.clipstudio.net/content/tips/en/