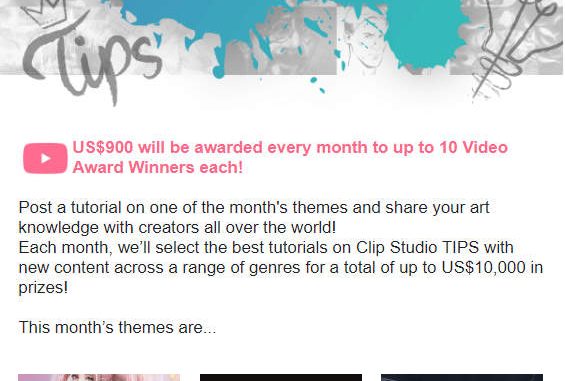 Clip Studio Paint has announced its Tutorial themes for July 2022.
Read the press release
This month's themes
Entry period
July 1 – July 31, 01:00 UTC
Post a tutorial on one of the month's themes and share your art knowledge with creators all over the world!
Each month, we'll select the best tutorials on Clip Studio TIPS with new content across a range of genres for a total of up to US$10,000 in prizes!
Theme 1
Drawing clothing textures#drawfabrictextures
The texture of clothing differs widely based on the fabric and design. Teach how to use Clip Studio Paint to bring out the textures of shimmering silk and satin, soft cotton, tanned leather, woven knits, and more.
Theme 2
Time saving productivity hacks#CSPTimeHacks
What do you do to make your work more efficient in Clip Studio Paint? Share your tips about how to use Companion Mode with the Quick Access palette, the Command Bar, filters and more to streamline your workflow.
Theme 3
How to draw sea creatures#Drawseacritters
The ocean has many inhabitants from fish, to sea turtles, and other reptiles, to shellfish, invertebrates like squid, adorable otters, seals, shrimp, crabs and their other shelled brethren. Show us how you draw them in Clip Studio Paint!
Link: https://www.clipstudio.net/content/tips/en