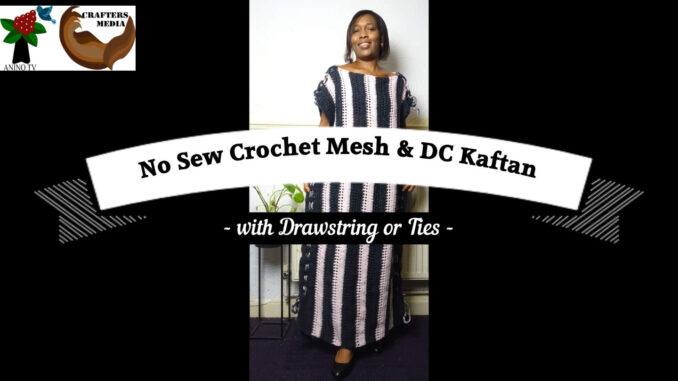 Season 1, Episode 1 of Knitwear inventory- No-sew Crochet mesh and double crochet kaftan now on Anino TV.
*The free pattern to download will soon be available.
Video description…
In this video, Anino teaches how to crochet a No-sew kaftan using double crochet and mesh stitch patterns. This design can be made into a top, blouse, skirt, and many more.
This kaftan makes use of approximately 3 x 400g of Aran yarn.
Technique or learning;
1. Definition of a mesh.
2. How to crochet a mesh.
3. Tip on crocheting a stripe design.
4. Tip on joining the yarns before crocheting the second colour in the next row.
5. How to crochet the mesh and double crochet stitch pattern.
6. How to make a tie or drawstring cord using four strands of yarn.
7. Joining the front and back of the garment to create a ruched effect if desired.
8. Darning loose yarns.
9. Joining the front and back of the garment using the drawstring to make it wearable.
10. Suitability of the garment to various wearers including bed-bound or bed-ridden patients.
11. Using the drawstrings as ties or as a drawstring for the garment.