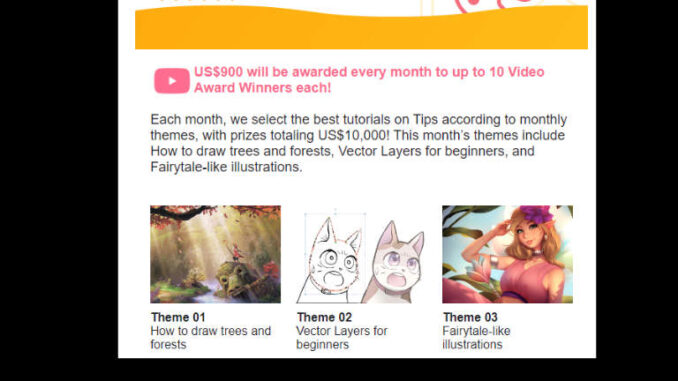 Clip Studio Paint has announced its tutorial themes for February 2023.
Read the press release
Now accepting tutorials for TIPS of the Month
Each month, we select the best tutorials on Tips according to monthly themes, with prizes totaling US$10,000! This month's themes include How to draw trees and forests, Vector Layers for beginners, and Fairytale-like illustrations.
  US$900 will be awarded every month to up to 10 Video Award Winners each!
Theme 1
How to draw trees and forests
#TreesAndForests
From dense woodlands to solitary trees, we are looking for tips on drawing and painting trees and forests in various settings that are often used as backgrounds.
Theme 2
Vector Layers for beginners
#BeginnerVectorLayers
For this theme, imagine you are introducing tips for vector layers to someone who has never used them or doesn't yet know their usefulness. What would make them want to try them out? Examples include line shape, line size, and vector eraser.
Theme 3
Fairytale-like illustrations
#FairytaleIllustrations
Would you like to create fantastic, cute illustrations like those in fairytales? Use Clip Studio Paint to let your imagination go wild and draw fairytale scenes and characters from fairytales you loved as a child.
Note: Only works with your original characters can be accepted. We cannot accept works with existing IP characters to Clip Studio Tips.
Link: https://www.clipstudio.net/content/tips/en