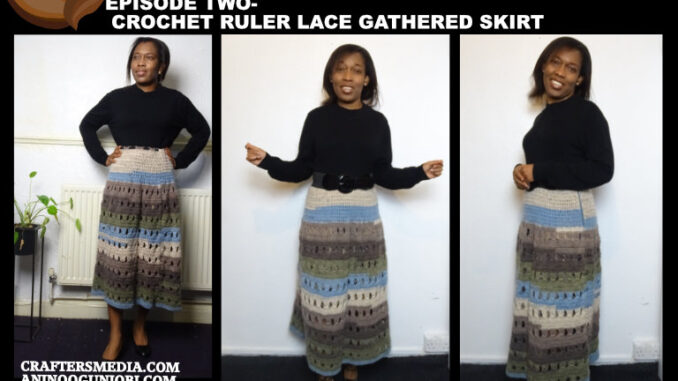 Every month, we are to post a video tutorial of a crochet project on our Crochet Inventory to motivate you into Crafters Engagement and make the project.
We know we are late with the post, thanks for your patience. Here is the project for January 2023 and it is a Ruler Lace or Broomstick Lace gathered skirt. It is a skirt that will complement your wardrobe of fashionable knitwear.
Video Description
Welcome to the Crafters Inventory section of the knitwear inventory series by Anino and Crafters Media where we make fashionable knitwear (crochet, hand-knitting and machine knitting) for our wardrobe.
This project makes use of Aldi's Seashore yarn but you can use any suitable yarn or any yarn that you have.
*The free pattern for this project will soon be on the blog. In this video, Anino demonstrates how to crochet a ruler lace or broomstick lace gathered skirt.
Anino also made a skirt using a silk tie and dye fabric to act as a lining. The silk skirt is separate from the gathered skirt.
Until next time!
Happy Crocheting and remember you are the designer!