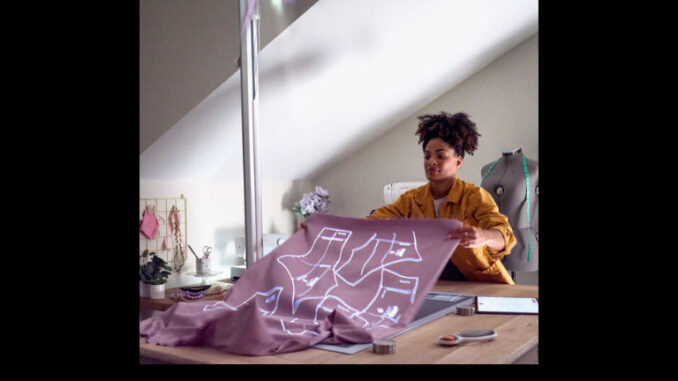 Ditto is a digital pattern projector by Singer and JoAnn has launched.
Read the product description
The future of sewing is here.  Ditto is transforming the world's oldest sewing problem of patterning into a journey of creative simplicity.  It's a digital projection system with paperless patterns that makes it possible to adapt to any body measurement and make design changes on the fly.  
Start by shopping hundreds of patterns size 0-28 with infinite customizations. Simply launch the app and project your personalized pattern onto the included Ditto cutting mat and start cutting fabric in minutes.
Ditto patterns are made to your measurements which takes out the guesswork of sizing. 
Expand your wardrobe options while you stop wasting money on buying or creating things that don't fit properly.  Since everything is digital with Ditto, each Ditto pattern can now change as you do.  Reuse patterns again and again with one simple subscription. 
Visit www.dittopatterns.com to check out pattern options including customizable Ditto patterns along with other brands like Lisel + Co, Madalynne Intimates, Style Arc, Straight Stitch Society and more.
Let's Ditto!
Link: https://www.joann.com/presale—ditto-pattern-projector/19380047.html