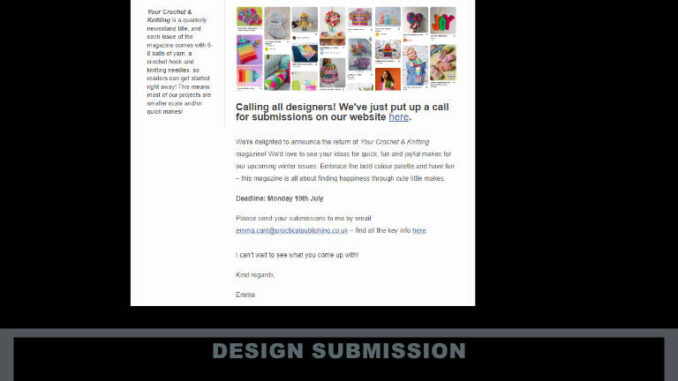 The design submission call for Your Crochet and Knitting magazine is out and the deadline for submission is 10th July 2023.
Read the press release
Calling all designers! We've just put up a call for submissions on our website here.
We're delighted to announce the return of Your Crochet & Knitting magazine! We'd love to see your ideas for quick, fun and joyful makes for our upcoming winter issues. Embrace the bold colour palette and have fun – this magazine is all about finding happiness through cute little makes.
Deadline: Monday 10th July
Please send your submissions to me by email: emma.cant@practicalpublishing.co.uk – find all the key info here.

I can't wait to see what you come up with!
Kind regards,
Emma
Link: https://craftworld.com/cms/call-for-submissions-your-crochet-knitting/