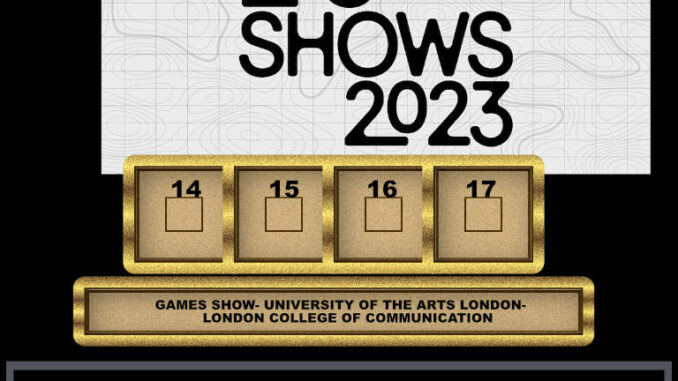 Register on the Event Brite link below for FREE to attend the show where you can play games designed and programmed by students and see other shows like animations and films also made by students.
Read the Press Release
LCC Shows 2023: Show Two – Design and Screen
As part of LCC Shows 2023, explore the work of our graduating Design and Screen students in Show Two.
14 – 17 June 2023
Wednesday 14 June: 9.30am-12.30 pm and 2-7pm (last entry 6.45pm)
Thursday 15 June: 9.30am-12.30 pm and 2-7pm (last entry 6.45pm)
Friday 16 June: 5-7pm (last entry 6.45pm)
Saturday 17 June:10am-4pm (last entry 3.45pm)
About Show Two
In LCC Shows 2023: Show Two, our graduating Design and Screen students have used their creative skills and critical perspectives to produce work that challenges, connects and inspires.
Our Design students have explored the aesthetic traditions of design practice through experimentation and innovation within the context of a post-digital culture. Featured projects aim to share compelling narratives, drive positive change and imagine alternative futures through a shared sense of social purpose.
Our Screen students have developed sonic solutions, thought-provoking digital art, pioneering game concepts and ambitious films designed to make audiences stop and think. Their projects consider important social issues, propose solutions to global challenges, and capture stories and identities through diverse forms and formats.
Together, our 2023 graduates began their studies during a unique period of change which has radically and irreversibly transformed their disciplines and the wider world. Highlighting work developed during this period of flux, LCC Shows: Show Two provides an opportunity to explore how both personal and collective practice can be harnessed to shape the future of creative communications.
Exhibiting courses
Design
BA (Hons) Design for Art Direction
BA (Hons) Design for Branded Spaces
BA (Hons) Design Management
BA (Hons) Graphic & Media Design
BA (Hons) Graphic Branding & Identity
BA (Hons) Illustration & Visual Media
BA (Hons) Interaction Design Arts
BA (Hons) User Experience Design
MA Design for Visual Communication
Postgraduate Certificate Design for Visual Communication
Postgraduate Diploma Design for Visual Communication
Screen
BA (Hons) Animation
BA (Hons) Film Practice
BA (Hons) Film and Screen Studies
BA (Hons) Film and Television
BA (Hons) Games Design
BA (Hons) Sound Arts
BA (Hons) Virtual Reality
Pre-Degree
Certificate of Higher Education: Preparation for Design, Media and Screen
About LCC Shows 2023
Explore the future of Design, Media and Screen at LCC Shows 2023.
This year, our graduating students have developed work that navigates challenging spaces on both literal and metaphorical levels – not only reflecting the unique opportunities posed by non-linear exhibition spaces, but also the transitional space between graduation and the next stage of their creative journeys.
Reflecting on issues ranging from identity to social justice and sustainability, featured projects combine established approaches and cutting-edge technologies to chart the development of creative practice in ways that engage and inspire.
LCC Shows 2023 demonstrates the growth of our graduating students as they develop their own perspectives as creators, makers and innovators, and as they begin to chart future possibilities through their own distinct cartographies.
Along with exhibitions of student work, LCC Shows 2023 will also be accompanied by a programme of events – free and open to all.
Accessibility: London College of Communication strives to provide an inclusive and accessible environment for our students and visitors. If you have any specific access requirements for an event or exhibition, please contact us by email (events@lcc.arts.ac.uk) or phone (020 7514 8498) in advance of your visit so that we can make any necessary preparations or adjustments.For full access and route guides for our building, please view our AccessAble accessibility guide.
Find us: London College of Communication is located close to central London in Elephant and Castle. The College is based on a single site within easy reach of various parts of the city, and is well-served by Underground, bus and rail networks. Find out more about getting here on Find Us page.
Important filming and photography notice: Please note that filming and photography may be taking place at this event. Both bigger crowds, smaller groups and individuals may be captured on camera. All imagery and footage may at some point be published on the College website, social media channels, and in print.
Link: https://www.eventbrite.co.uk/e/lcc-shows-2023-show-two-design-and-screen-tickets-636455223707