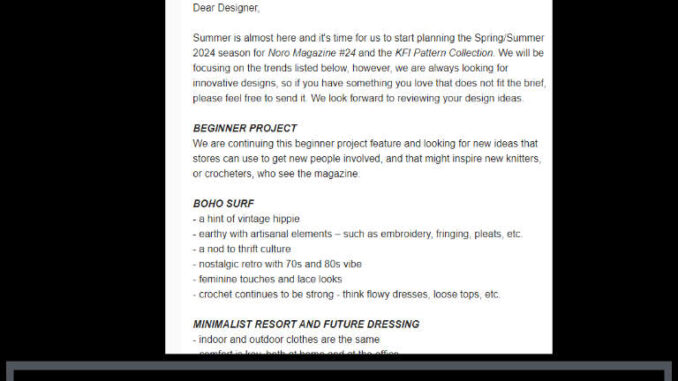 Design Submission Call for the 2024 Spring/Summer issue of the magazine Noro Magazine and KFI Patterns is out and the deadline is Friday, June 30th 2023.
Read the press release
Spring/Summer 2024 Design Call for Noro Magazine and KFI Patterns
Submissions due by Friday, June 30, 2023
Dear Designer,
Summer is almost here and it's time for us to start planning the Spring/Summer 2024 season for Noro Magazine #24 and the KFI Pattern Collection. We will be focusing on the trends listed below, however, we are always looking for innovative designs, so if you have something you love that does not fit the brief, please feel free to send it. We look forward to reviewing your design ideas.
BEGINNER PROJECT
We are continuing this beginner project feature and looking for new ideas that stores can use to get new people involved, and that might inspire new knitters, or crocheters, who see the magazine.
BOHO SURF
– a hint of vintage hippie
– earthy with artisanal elements – such as embroidery, fringing, pleats, etc.
– a nod to thrift culture
– nostalgic retro with 70s and 80s vibe
– feminine touches and lace looks
– crochet continues to be strong – think flowy dresses, loose tops, etc.
MINIMALIST RESORT AND FUTURE DRESSING
– indoor and outdoor clothes are the same
– comfort is key, both at home and at the office
– day to evening
– head to toe dressing
– statement simplicity
STRIPES WITH A MODERN NAUTICAL TOUCH
– playing with texture and color
– broken or color-blocked stripes
– stripes combined with off-white
– Breton stripes
NATURE AND SUSTAINABILITY
– elements of nature brought inside
– greens and natural shades
– natural luxury for home dec
– crochet continues in this category too
COLOR TRENDS
– WGSN, one of the largest trend companies, is focusing on Apricot Crush as the big color trend for SS 2024.
– Top fashion is calling out light green.
– Lavender continues to trend behind the scenes, and red and pink remain strong.
– Butterflies are a strong motif.
OTHER IDEAS
• Bright colors, vibrant stripes, athletic looks.
• Florals and plant-inspired looks.
• Cardigans in every length.
• Feminine details abound – ruffles, puffed sleeves, romantic looks, etc. Think the 90s.
• Gender-neutral dressing is very cool too.
• Wave patterns are hot. Patchwork continues to be an obsession.
• Have fun with fringe!

Please email your design submissions to mcknitsinternational@gmail.com no later than Friday, June 30, 2023.
SUBMISSION GUIDELINES
Please submit a ONE PAGE PDF with each of your images and a brief explanation of your techniques. Make sure to include: YOUR NAME, EMAIL, SHIPPING ADDRESS, and PHONE NUMBER on every submission. Any submissions without this information may not be considered. When emailing us your submission(s), please take into account the following procedures, which will help to expedite our communication with you:
• Send clear scanned images of swatches and sketches and be sure that each file is clearly labeled with your name, address and phone number. Also make it clear which sketch and swatch are to accompany each other.
• JPGs or PDF files work best for us at 72 dpi only.
• Make your presentation as organized and concise as possible.
• If you want to use any of your submissions for another purpose during the review process, send an email to mcknitsinternational@gmail.com asking us to take the particular submission(s) out of consideration.
• Please do not telephone or email with inquiries as to the status of your submissions. You will hear from us if your design has been selected. Due to the sheer volume we receive, it's not possible to respond to everyone.