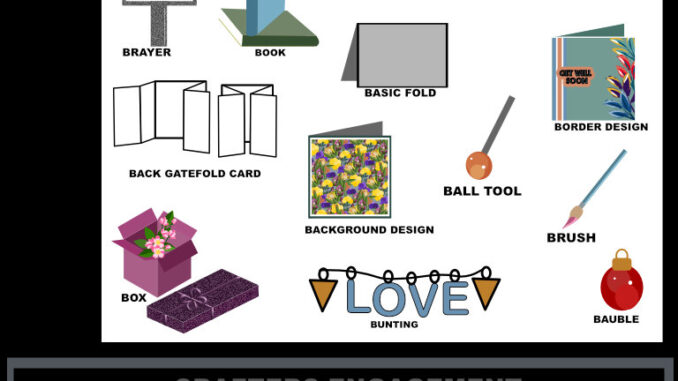 B is for;
Basic Card: This is also known as a plain card or cardstock.
Basic skill: This is the foundation skill level for a project it can also be termed beginner.
Back Fold Gatefold Card: Also known as Fold back gatefold card is a card that opens from the middle where it has spines that meet and fold backwards.
Basic Fold: This is a single fold on a card which can either be vertical to create a portrait card or horizontal to create a landscape card.
Bow: This is a strip of ribbon or material that has been tied or knotted in the middle to form loops and loose ends.
Box: A geometric-shaped packaging container with sides, a flat base and a lid.
Book: These are physical or digital (video or audio) published books that demonstrate craft projects with step-by-step tutorials and pictures.
Border: The strip that forms a diagonal, horizontal or vertical edge beside or along something.
Border Design: This is when the image, motif or design is used or runs diagonally, lengthwise or width-wise on the edge of the greeting card.
Background: something at the far ground.
Background Design: The background design is a repeated design which can be a seamless repeat or not seamless repeat.
Bauble: a transparent or opaque spherical-shaped decoration with or without a flat back that can be filled with small items.
Brush: This is an artist painting tool with a handle and bristle secured by a ferrule. Brushes can be fan-shaped, round, or flat.
Base Card: This is the foundation card when making a greeting card.
Ball tool: This is a plastic, wooden or steel modelling tool with different ball sizes at either end which is used for embossing, debossing, modelling or moulding clay, sugar paste, paper, fabric flowers and more.
Burnish: The act of polishing the fold of a card by rubbing it.
Bookmark: This is a strip of material used for indicating one's place in a book.
Birthday: The celebration of a birth anniversary.
Bunting: Lightweight fabrics or cards cut into geometric shapes, letters or numbers and then attached to a rope and used to act like a banner.
Brayer: a hand-held tool with a roller and handle that is used for applying ink to a surface.