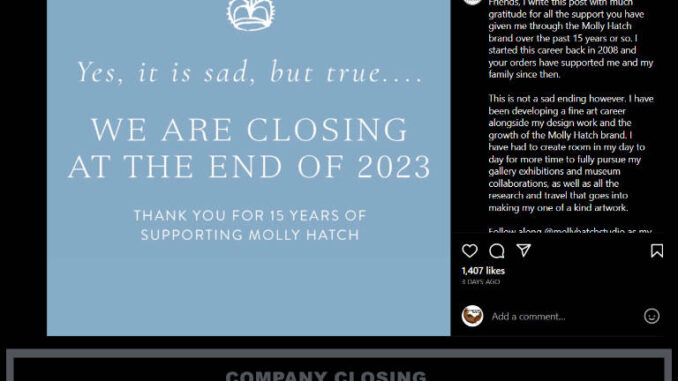 According to a post by Molly Hatch on its Facebook page, it is closing down at the end of 2023.
Read the press release
Friends, I write this post with much gratitude for all the support you have given me through the Molly Hatch brand over the past 15 years or so. I started this career back in 2008 and your orders have supported me and my family since then.
This is not a sad ending however. I have been developing a fine art career alongside my design work and the growth of the Molly Hatch brand. I have had to create room in my day to day for more time to fully pursue my gallery exhibitions and museum collaborations, as well as all the research and travel that goes into making my one of a kind artwork.
Follow along @mollyhatchstudio as my career develops. Thank you again for being here and being a part of making my dream life as an artist designer possible, I sincerely couldn't have gotten here without you all checking in on my story from time to time and investing in my product.
With deep gratitude and warmth,
Molly